Strength In Numbers
Friday, February 26, 2016 2:52 PM by Nikita Jankowski- Staff Contributor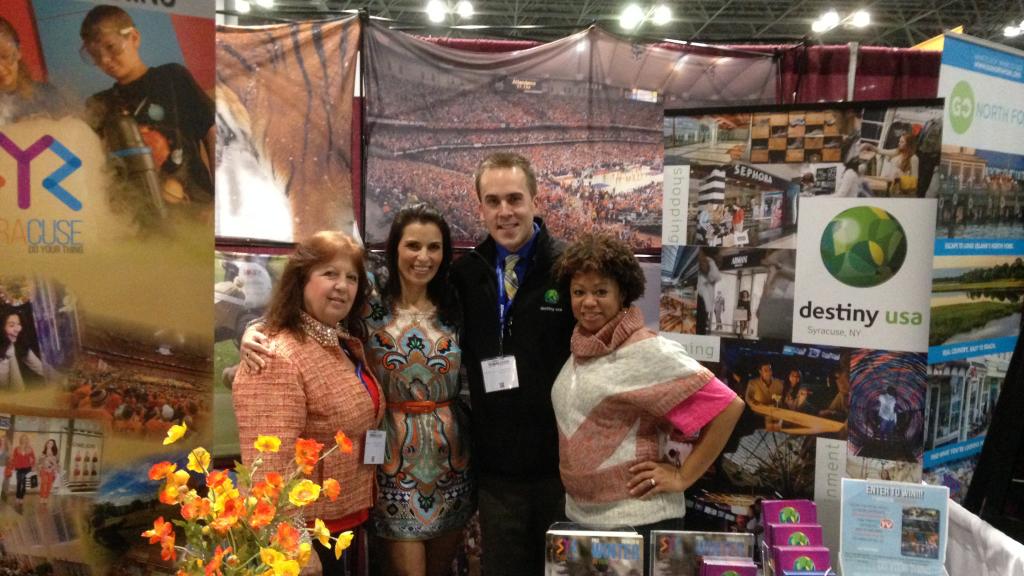 Visit Syracuse, Destiny USA and Julie Taboulie team up in NYC to attract tourists
Tourism promotion started off strong for 2016! Visit Syracuse, Onondaga County's leading tourism organization, hit the road with two tourism partners to promote the region. Visit Syracuse combined forces with one of the State's largest attractions, Destiny USA and Celebrity Chef Julie Taboulie, at the New York Times Travel Show in New York City.
The trio was among 500 other exhibitors, from 150 countries, and shared information with more than 28,000 travelers and industry professionals, over three days. The New York Times Travel Show is a one-stop-shop for travel enthusiasts; providing hotel, transportation, attraction and destination information from all around the world. Destinations like Florida, Rome, Sri Lanka and the Caribbean were in attendance but Visit Syracuse Communications Manager Nikita Jankowski said New York State destinations had an advantage for tourism promotion, due to proximity.
"You would be surprised at how many people are looking for an inexpensive, quick and close weekend getaway out of the city and how many high level journalists/bloggers are looking to write/blog about it," said Jankowski. "When we interacted with show attendees, most of them were amazed at how much was offered just three to four hours from them, in their own state – it's all about sharing information."
"When it comes to shopping, dining and entertainment in New York State, it doesn't get any bigger than Destiny USA," said Aiden McGuire, director of marketing, Destiny USA. "With more than 190 retailers and outlets, 37 dining options to suit any taste and 17 entertainment options, there's no shortage of ways to experience the region's largest tourist attraction. We were incredibly excited to team up with Visit Syracuse and Celebrity Chef Julie Taboulie to share our unique experiences with travelers looking for their next adventure at the New York Times Travel Show."
This was the second time Visit Syracuse and Destiny USA partnered for the New York Times Travel Show. They shared an informational booth in the New York State aisle of the show, alongside several other tourism destinations from throughout the State. They also participated in two culinary panel discussions for consumers and media/trade audiences.
The Queen of Lebanese Cuisine and Syracuse area native, Julie Taboulie, performed a live cooking demonstration on the Taste of the World – Kids Kitchen stage and will greeted fans with autographs and free giveaways from the booth, immediately after her presentation.
"As the official Ambassador for Visit Syracuse, I had an amazing time taking the kids on a creative, colorful and culinary exploration of fresh flavors from Greater Syracuse, New York," said Julie Taboulie. "Cheerfully chiming in the New Year on the New York Times Travel Show culinary stage was a special culinary celebration of our city, inspired by an international flare of foods from Lebanese, Middle Eastern and Mediterranean cuisines."
Numbers don't lie
Destiny USA brings in more than 25 million visitors to the region annually; making it the fourth most visited destination in the State.
Julie Taboulie's audience of over 90 million viewers spans across the United States and Canada on American Public Television and Create TV.
Visit Syracuse helps lead to the production of over $863 million dollars, annually, of direct visitor spending in the local economy.
The 2014 Tourism Economics Report revealed that Syracuse had the second highest tourism growth rate (6.8 percent) in New York State, among metropolitan areas. Albany came in first place at 7.4 percent
The New York Times Travel Show was held on January 8th – 10th.