5 Must Try Fall Drinks in Syracuse
Tuesday, November 7, 2017 1:00 PM by Mary Kate Harrigan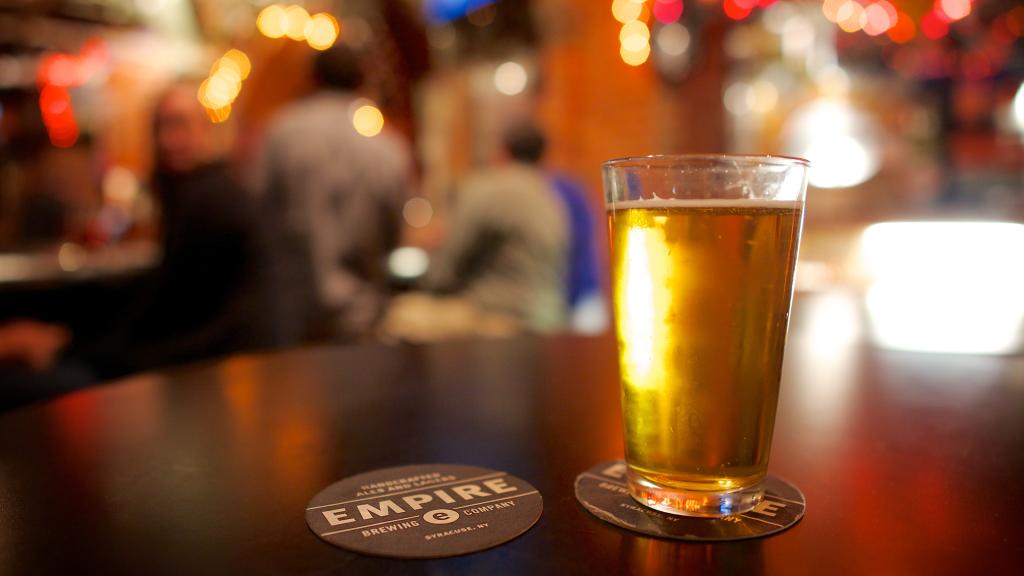 Sip on Syracuse this fall and enjoy a nice autumn-inspired beverage. As the air continues to chill and the leaves finish falling, there is no better way to unwind than with a fresh beer, cider or cocktail. Here are five adult drinks you must try this fall:
1911 Honeycrisp Hard Cider
Beak & Skiff has recently been voted the #1 Apple Orchard in the U.S. yet again and it's no surprise. Their distillery 1911 Spirits might have a little something to do with that. Their hard ciders and spirits are made from the apples grown on their property. The Honeycrisp Hard Cider is a light and sparkling beverage with the sweet taste of its apple namesake. You can get this one in stores but to complete the fall experience we recommend a trip to Beak & Skiff.
Beak & Skiff Apple Orchard, 2708 Lords Hill Rd., Lafayette, NY 13084 | MAP IT
Stout Beard Brewery's Carlisle Pumpkin Stout
The Carlisle is a rich pumpkin stout brewed with pumpkins, squash and seasonal spices. The best part about this beverage is that it features real, local produce as ingredients. This pumpkin stout is not overwhelmingly sweet and has a nice bitter finish, perfect for getting your fall fix if you're a craft beer connoisseur. 
Stout Beard Brewing Co., 1153 W. Fayette. St. #102, Syracuse, NY 13204 |  MAP IT
Empire's Autumn in Armory Square Cocktail 
Looking for the perfect fall cocktail? The Autumn in Armory Square Cocktail features caramel vodka, apple vodka, apple cider, zonin pinot grigio, apple slices and a caramel drizzle. It basically tastes like you're drinking a caramel apple. Enjoy this drink with a warm bowl of their farmhouse chili or over great conversation at the bar.
Empire Brewing Co., 120 Walton St., Syracuse, NY 13202 | MAP IT
Full Boar Craft Brewery's Sour Apple Pie Ale
There's no better way to pregame Thanksgiving dessert than with a pie inspired ale. This Apple Pie Ale packs a light sour punch that compliments the crisp apple taste. Notes of cinnamon, nutmeg, brown sugar and apple pie spice make it the perfect fall ale.
Full Boar Craft Brewery & Tap Room, 628 S. Main St., North Syracuse, NY 13212 |  MAP IT
Last Shot Distillery's Sweet Maple
This Skaneateles distillery offers a spirit that is unlike any other. Last Shot Distillery's Sweet Maple spirit is aged to perfection with oak staves and has a sweet taste with slight hints of cinnamon spice and vanilla along with prominent maple notes. This spirit is the perfect for fall fun as it lets you play bartender and create your own fall inspired cocktails or just drink on the rocks. 
Last Shot Distillery, 4022 Mill Rd., Skaneateles, NY, 13152 |  MAP IT