Don't Pull an All-Nighter Planning for Commencement Weekend
Friday, April 29, 2016 2:38 PM by Justin Lynch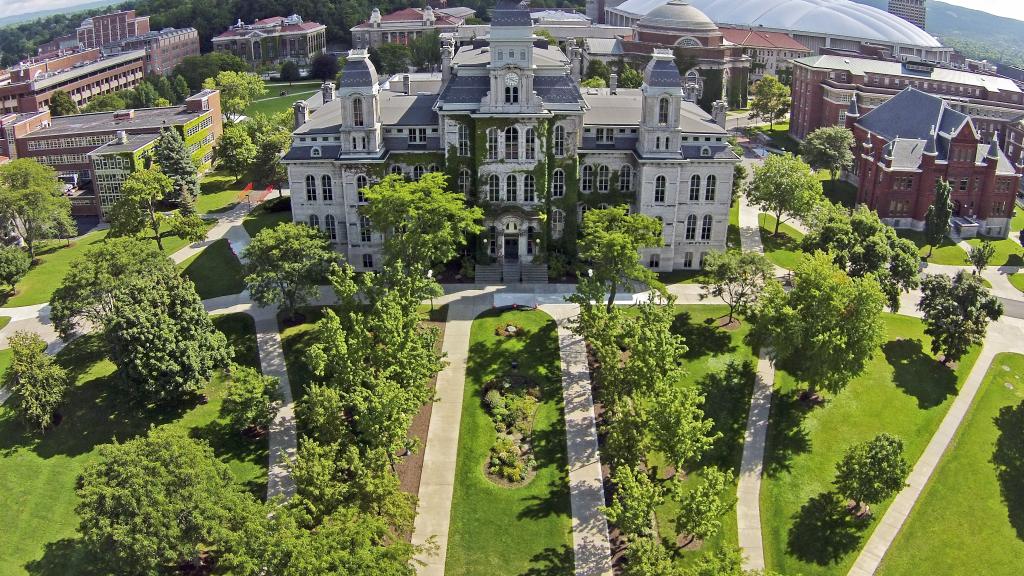 Have you been putting off commencement weekend planning like a ten page term paper and afraid that grandma might have to sleep in the bathtub at your son's fraternity house?
Between May 13th - 22nd, thousands of travelers from all over the world, including the occasional the celebrity and the Vice President of the United States, will head to Syracuse for commencement celebrations.  Students from Le Moyne College, Syracuse University, SUNY Upstate Medical University and SUNY ESF, will all be tossing their caps into the air and it can be challenging to find a room or an open table at this stage in the game.
DON'T PANIC!  We've pulled an all-nighter and worked with our partners at the Downtown Committee, SU Hill Corporation and Skaneateles Chamber of Commerce to do the research for you. 
Relax and celebrate your grad's accomplishments, sans party-foul.  The list below gives you some great options for accommodations throughout Onondaga County, along with post-commencement celebration spots still accepting reservations:
Accommodations with availability
(as of 4/29 @ 12:47pm)
Restaurants with Open Tables 
(as of 4/29 @ 12:47pm)
SKY Armory (Graduation Weekend Pop-up Dining)
Saturday, May 14, 2016 2:00-10:00 pm; seating guests between 2:00-9:00 pm
Syracuse University Graduation Pop-up Dining at SKY Armory. We're opening up our pop-up restaurant so families of Syracuse University students can celebrate their grad's achievement with a fine dining experience, no matter how large their party is. SKY Armory features fresh, from-scratch food with an emphasis on local ingredients. 3-course menu, $55 per person. A la carte desserts will also be offered. Pre-ordered specialty cakes are available as well, please inquire for more details.
Only accepting parties of 8 or more guests; Reservations are required; we will not be able to accept walk-ins. To make reservations, call 315.473.0826. Also, visit www.skyarmory.com for more details on the event.
Lemon grass - Delicious Thai cuisine with refined atmosphere in the heart of Syracuse's Armory Square.  Plenty available on May 12. Some availability on May 13-14. $10 per person deposit credited  towards the meal  to reserve/guarantee your seats.  Call (315) 475-1111 to make a reservation.
Maxwell's - Relaxed Italian dining, located in historic Hanover Square, accepting reservations  Guests may contact Maxwell's at 315-299-6633 or Maria at 315-440-1515.
Byblos Bar & Grill - Little Mediterranean eatery with a Lebanese bent prepares pitas, kebabs & homestyle pastries. Accepting reservations for Commenecment Weekend
Phoebe's - Well established American bistro serving a seasonal menu, with an attached coffee bar in the heart of the University neighborhood. Reservations available Friday night 5-13 and Saturday daytime 5-1. 
Peppino's Neapolitan - World Pizza Competition medalist offering 1 free cheese pizza to all college graduates. Relaxed setting, fast casual eatery, call ahead for seating for large parties
Other things to do:
- Opening weekend of Ken Ludwig's Baskerville: A Sherlock Holmes Mystery, and the closing weekend of SU Drama's A Flea in Her Ear, at Syracuse Stage
- Retailers, J Michael Shoes and Amelia Leigh Marshall Street offering Storewide Discounts up to 30% Off