Goalies aren't the only ones who can make a save.
Tuesday, May 23, 2017 5:00 PM by Elizabeth Judge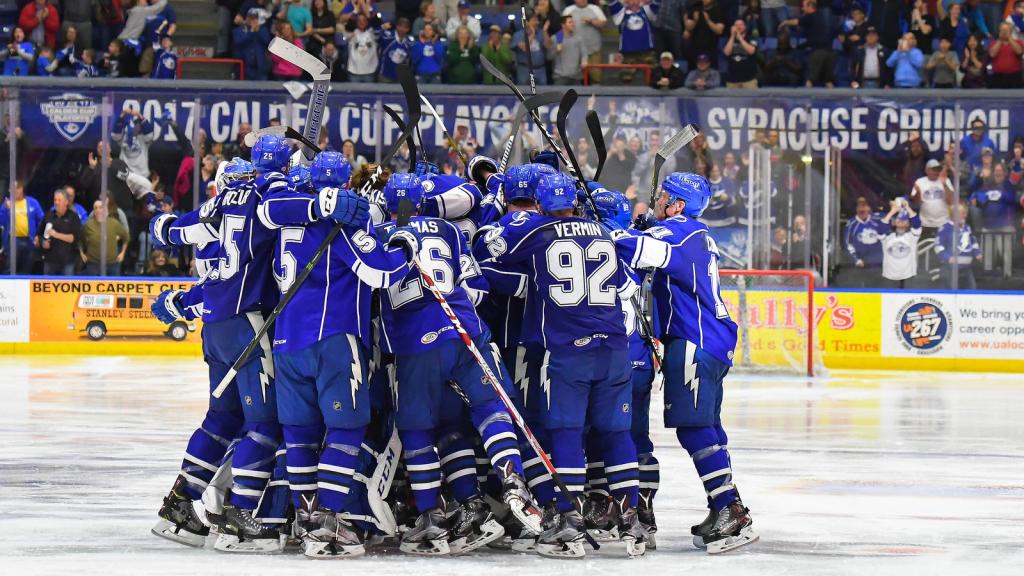 The Syracuse Crunch return home tomorrow, Wednesday, May 24th, in hopes of finishing the Eastern Conference Finals at the War Memorial. With the series tied 1-1, the Crunch will clinch a Calder Cup Final berth if they can win the next three home games against the Providence Bruins. Continue reading for some quick facts on the series:
-  The Syracuse Crunch are 1-1 against the Bruins during the regular season, defeating Providence, 3-2, in their only home-ice match-up while falling once on the road, 3-1.
- The Crunch are undefeated at home during the 2017 playoffs, with their last win coming off a 6-3, Game 7 victory against the Toronto Marlies. The win was the team's first Game 7 victory since May 12, 1996. The Bruins also won their last series in Game 7, defeating the Hershey Bears on the road.
- Providence is 5-2 on the road during this season's playoff run, and is led by rookie Danton Heinen with 15 points, coming off of six goals and nine assists.
- Syracuse is led by captain Erik Condra and center Matthew Peca each with 12 points off of four goals and eight assists apiece.
- The Crunch are facing off in their third Conference Finals in team history (1996, 2013). Syracuse advanced to the Calder Cup Finals in their last appearance in 2013, to face fellow playoff semi-finalist Grand Rapids (currently tied, 1-1, in their series against San Jose).
- Only seven more wins separate the Crunch from the Calder Cup Trophy. Syracuse won their last Eastern Conference title in 2013 in 5 games, defeating Wilkes-Barre/Scranton 4-1, before advancing to the Cup Finals.
- The Crunch are looking to take full advantage of home-ice by filling the War Memorial Arena for the next three games, Wednesday, May 24th, Friday, May 26th and Saturday, May 27th. Save $10 off day of game pricing with a special Visit Syracuse discount. Tickets for any of the three games are just $26 when you mention Visit Syracuse.