Killing it in Yoga? 5 places in Syracuse to #Namaslay
Monday, August 7, 2017 4:00 PM by Mary Kate Harrigan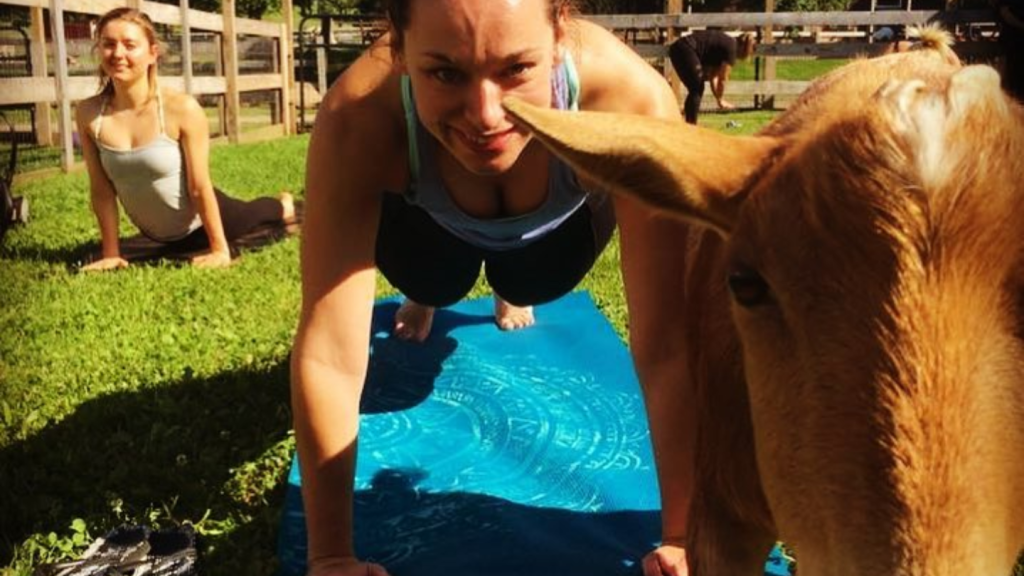 What's the best way to relax while getting some exercise this summer in Syracuse? Yoga. These classes will have you bending over backwards to step up your yogi game. Here are our picks that'll have you telling your friends "nama-stay in Syracuse and DO MY THING" :
Goat Yoga at Purpose Farms
You'll be wondering if goat stands for "greatest-of-all-time" in this case, because we can't think of any better combo. Purpose Farms in Baldwinsville offers a yoga class like no other featuring….goats. Enjoy a nice evening of yoga while in the company of Purpose's rescue goats and cross this unique experience off your bucket list. Not only will you be participating in possibly the coolest yoga class of all time but you'll be helping out a great cause as Purpose Farms works to match at-risk youth with animals that were in similar situations. All you need to do is bring your own mat and book your next class asap because these ones go fast!
Syracuse Yoga
Known to bring their practices outside of the studio in local vineyards  Syracuse Yoga, truly embraces the DO YOUR THING mantra. Whether you're looking to perfect your warrior pose or just get some restorative relaxation, Syracuse Yoga is the place to go. Plus, they offer a Yoga Club that meets at Kitty Hoynes every 3rd Thursday of the month. Everything in moderation, right?
O Yoga
O Yoga offers something for every level of ability when it comes to yoga. Their Syracuse location houses a variety of teachers trained in different styles of yoga so there is something for everybody. Want to give it a try first? Join O Yoga for a free community yoga session at the Everson Community Plaza at 6:30 pm on Thursday, September 14. A Lululemon trunk show will precede the event at 5:30 pm and beverages will be served by CoreLife Eatery. All you need to bring is your mat and yourself to help O Yoga celebrate their 6 year anniversary!
Dharma Yoga
Looking for more of a spiritual journey than just your standard yoga class? Come to Dharma Yoga and take a class with one of the many experts that'll help you have a deeper connection with the self. Come for the yoga but stay for their wellness center experience offering sound wellness, crystal wellness and even health coaching. Dharma Yoga will take you on a journey with both the mind and body.
Breathe Yoga
Breathe Yoga doesn't just help you learn yoga but strives to teach you to live your life inspired. Offering everything from beginner classes to even retreats in tropical locations, Breathe strives to help you adopt yoga as a lifestyle and not just an exercise. The studio even offers juice cleanses and nutrition sessions to help you put your best foot forward and be a healthier you. Relax with a class then grab a drink at their smoothie bar!
Empire Brewing, Metro Fitness, and other area establishments often host unique yoga events, search the Visit Syracuse events calendar to find other specialty yoga classes and workshops.