Local Brrrews
Thursday, April 6, 2017 6:00 PM by Winter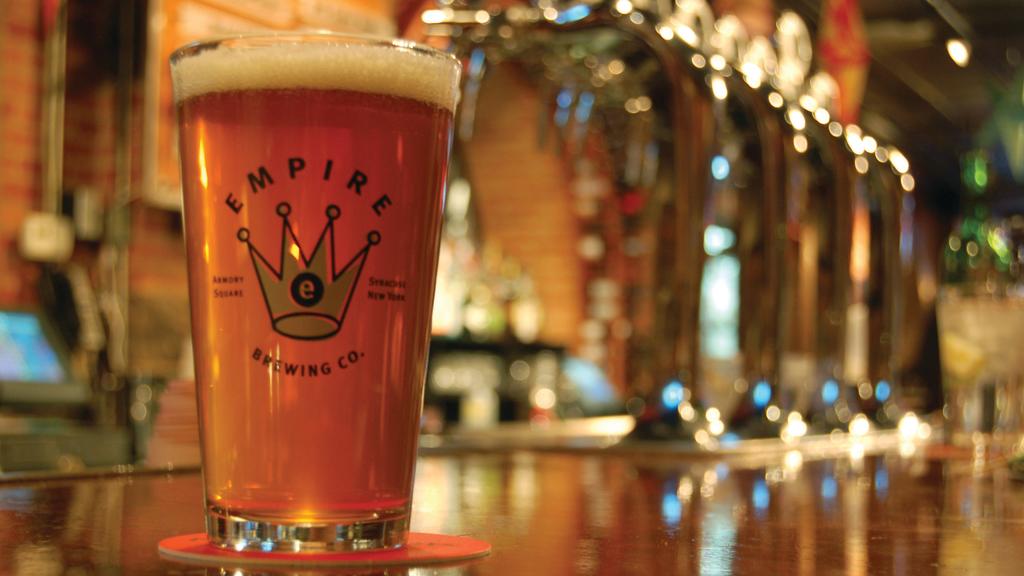 You may be seeing grass instead of snow on the ground, but no need to pour one out for your buddy Winter. I'm still around - I'm just chilling indoors checking out the local brrrews. I mean, it's no secret that every now and again I like a nice, ice cold craft beer. (Everything is better when it's cold, amirite?)
One of my personal favorite holidays is coming up. Yup, National Beer Day is this Friday, April 7th, and you're in luck! I've done all the hard work for you by finding the best places in Central New York to celebrate the suds. You're welcome.
Located in Syracuse's Eastwood neighborhood (go figure), this family-owned nano-brewery provides a unique drinking experience. Using a one-barrel brew system, they create a variety of specialized craft beers - ranging from IPAs and wheat beers, to porters and stouts. It's a great place to sip samples, purchase pints, and grab growlers (32 or 64 ounces) of these delicious draughts. Yeah, they're good.
Empire Brewing Company
Man, I love this place. They're an award-winning brewer of handcrafted ales and lagers right in the heart of downtown Syracuse. They also serve some amazing grub - and use fresh, locally-sourced ingredients whenever possible, like vegetables and herbs from their garden, hops grown by their brewer, and locally raised angus beef.
A couple weeks ago I even got to check out their farm brewery. Talk about impressive.
When you're looking for a lot of great, local beer, this is the place to come. You can find 'em in one of my favorite places, Skaneateles, and they have over 60 taps of fresh, craft beer from around the state and beyond. With plenty of fun events on the calendar and good food on the menu, it's definitely worth a trip.
This is for those who would rather do than sit back and watch- er, drink. IBU is Syracuse's first teaching brewery, in the hopes of crafting some awesome beer while also providing a space for others to learn about brewing. Sign me up! (No, seriously, it's air conditioned in there). They're currently open Wednesdays through Saturdays but already have 10 beers on tap.
Inspired by traditional British brewing techniques, Middle Ages Brewing Company is the longest continuously running, full production brewery in Syracuse. Their beers are handcrafted and use fine ingredients - including malt imported directly from England! They're the ones you can thank for some of the locals' favorites like Syracuse Pale Ale, Swallow Wit, and even Dinosaur BBQ's house beer - Ape Hanger Ale.
This farm brewery is in the beautiful, rural area known as Onondaga Hill. Stop out for a pint of their Belgian style ales - you won't be disappointed with the views or the beer.
On the south side of Syracuse, Willow Rock serves up American-style craft beers. They tip their hats to the Syracuse sports scene with beers like Orange 44 (an awe-inspiring beer to rally behind) and Jim (the best brown ale there ever was or ever will be).
If you still haven't found something that tickles your fancy (I find that hard to believe…), check out Brew Central. It's a trail that combines craft beer, hard cider, ciders, and spirits across the heart of the state, and celebrates the stories, people, and beverages that make the craft scene so important. View their "Brewfinder" for other places to check out.
Now go out and enjoy the holiday!