Familiar and Troubling: A conversation with Twelve Angry Men director James Still
James Still has been the playwright-in-residence at Indiana Repertory Theatre for 22 years. His plays include the trilogy The Jack Plays, The Heavens are Hung in Black, I Love to Eat, and Looking Over the President's Shoulder. Still is also an accomplished director and directed the Syracuse Stage/IRT co-production of Twelve Angry Men. This interview took place about three weeks prior to the start of rehearsals. Twelve Angry Men runs October 9 – 27 at Syracuse Stage, tickets at www.syracusestage.org or 315-443-3275.
Interviewed by Joseph Whelan
JW: Twelve Angry Men dates from the 1950s. Why does it hold up so well?
JS: The play is deceptively masterful in its ability to capture 12 individual points of view that are often at odds with one another.  I'm very interested in the way it explores how alliances shift and change, and how people use one another to further their own points of view, and how they feel betrayed when votes change. It's about 12 people who are forced into a very hard conversation because they are obligated by civic duty.  In many ways the play is eerily prescient in the conflicts it lays bare.
JW: How would you say that resonates with us today?
JS: The play deals unflinchingly in issues of power, privilege, class, racism and prejudice — all things that continue to haunt and divide us in the 21st century.  The jurors in the play are forced into a dialogue, and I hope whatever political allegiance people hold in 2019, they could agree with me that we need more dialogue today. So watching 12 people with the stakes so high—someone's life is at stake—watching them work through biases and personal histories and snap judgments, and in some cases discomfort with the role they've been asked to play as decision makers, watching them work through all of that models a process that might be potentially instructive today.
JW: In what way instructive?
JS: Because it addresses the nature of compromise. What IS compromise?  How do you compromise? How do you compromise and feel ethically good about it, feel that you've done the right thing. For me the play is so much about point of view and shifting point of view. The play gives an audience access to multiple points of view at a time when I feel like we're faced with the danger of being told that there is only one right or correct point of view, a monolithic point of view.  In addition, the play is built on intense, active listening — the 12 jurors are ultimately changed by what they hear in that jury room.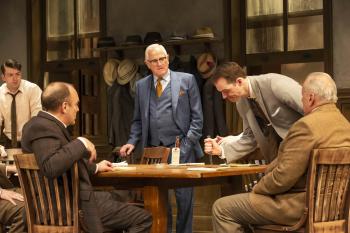 JW: Not long ago Charles Blow had a column in The New York Times in which he observes that denying racism is racism. Do you think that's present in the play in the way some characters are reticent about expressing their views?
JS: I absolutely agree with the quote and I fully intend to explore that. I think that is one of the things that the play cares about. To the play's credit, it does name it. I think it is important for us to experience that, and this is one of the things we can do in the theatre. We watch the process happening right in front of us. We offer that experience to the audience and it is different than reading an op-ed about it, or even reading or listening to a personal testimony about it. We experience it, inescapably, right in front of us. While some of the jurors haven't thought about it (and wouldn't consider themselves racist anyway), we're watching people forced to wrestle with the subject. This may be the deepest wrestling they have done. And, I think for us watching it, watching how some of the characters don't speak up, we can empathize with it or object to it, whatever our responses may be, but it allows us to ask ourselves, what would I do in that situation?  What should I be doing now in my own situation?   I also think this is where the play's 1957 setting offers a lens in which we can both reflect on the past and look at ourselves in the present.
JW: How will you explore that dynamic in rehearsal?
JS: As a director I am very story driven.  That might seem obvious about directing, but this is where my work as a writer is undeniable in my process as a director.  Story, story, story.  What's the story of every moment, every silence, every glance, every relationship in the play.  My conversations with actors are always about story. How we will illuminate the interplay among the characters is about the chemistry of the actors. How they create with one another and what personally are their triggers and their passions. The play requires us to dig deeply into issues of values, ethics, politics, and personal responsibility. The circumstances demand that we have these conversations in rehearsal. I will have to be on the edge of my seat and do some deep listening. It's a privileged position to be in a room with 12 wonderful actors. Wonderful things can happen, wonderful things will happen. 
JW: What do you find interesting about the play?
JS: I'm very intrigued . . . it took only one of these guys to change what looked to eleven of them like an open and shut case. It's a conceit of the play, that one person can have profound impact. At first, it seems obvious and indisputable and then one guy raises the question of doubt, a reasonable doubt, and slowly and messily it starts to chip away at people's confidence. Also, these people are strangers to each other. We never learn their names. Anonymity is part of the story. We don't learn a lot about them other than their jobs. We know very little about their families. They were brought together to do this one thing. Not to get to know each other. They share one thing: responsibility to come up with a verdict. Twelve people who are strangers to each other, locked in a room together. The play is about what happens around that table. That's the story. I love the intensity of it, the relentlessness, the opportunity for actors and audience to dig into the story.  Ultimately I'm drawn to the play because of what's both familiar and troubling about it.  It's in that overlap that the play lives — and that's what I'm most intrigued about exploring.