Wine Tasting: How-To & Where
Tuesday, February 21, 2017 3:00 PM by Winter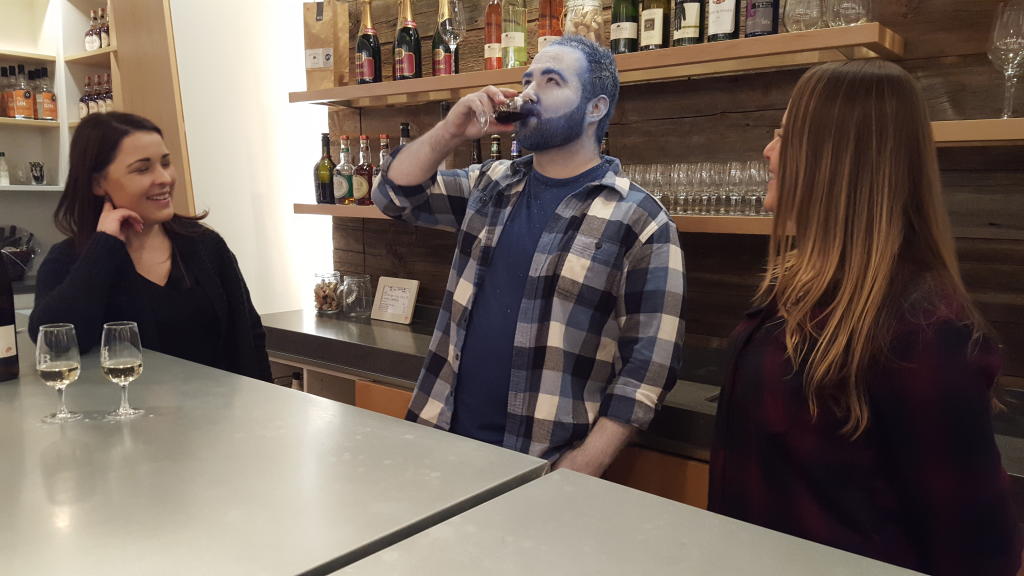 Alright, look. I'm just going to say it. I snow a lot on Syracuse from October through May. Proof: this video from Syracuse.com. But it's not bad, they love it! Just about everything they do when my siblings are in town, they do when I'm here (plus a few more that require snow). One of the things you gotta do – no matter the season – is wine tasting.
I'm new to this, but apparently when my dad rolled through with glaciers, it worked wonders on the soil and crops like wine grapes. Hell yeah! Wine is big in Syracuse and Central New York, so I'm learning how to taste wine. The lovely folks at White Birch tasting room in Skaneateles gave me some pointers and a how-to (stay tuned for a video, too):
Look. Yeah, you gotta look at the wine. First step is "what shade of red/white/pink is this wine?"
Swirl. Move the glass in a circular motion, and the wine will swirl around in the glass, just like a little snow flurry.
Sniff. Swirling made all the aromas come out, so now it's time to smell them. Ask yourself what flavors you detect in each wine. It's crazy how different they can be!
Sip. Actually, take a couple of sips. Now ask yourself what flavors you are tasting in the wine. My favorite part – they told me there's no wrong answers! Everyone's tastes are individual – like a snowflake.
Ok so, because wine is big and snow doesn't stop Central New Yorkers, here are some awesome places to check out between October and May. Because they stay open! Take that, Summer!
White Birch Vineyards- 18 W Genesee St, Skaneateles, NY 13152
Anyela's Vineyards- 2433 W Lake Rd, Skaneateles, NY 13152
Greenwood Winery & Bistro- 6475 Collamer Road E, Syracuse, NY 13057
Ashley Lynn Winery- 9090 Destiny USA Dr, Syracuse, NY 13204
Colloca Estate Winery- 14678 West Bay Rd, Fair Haven, NY 13156
Heart & Hands Wine Company- 4162 Rte 90, Union Springs, NY 13160
Long Point Winery - 1485 Lake Rd, Aurora, NY 13026