The marketing team at Visit Syracuse works to promote the greater Syracuse area and Onondaga County as a whole to visitors and locals alike to assist our hotels, restaurants and attractions in garnering interest among a larger community. While the visitor market was diminished during much of 2020, our team worked to be a resource for local residents as well as potential or future visitors, while accommodating and preparing for each phase of regional reopening.
2020 Organic Marketing Efforts  
Visit Syracuse spent time focusing on promoting safety, security and trust to those looking for information about the region. The COVID-19 Resource page has been an important addition to our website. Timely information from our county and state leaders is displayed and updated consistently. Partners that have access to their online listings on VisitSyracuse.com will see that a COVID-19 amenities section was added to let visitors know what safety precautions are being taken at their place of business.
We also focused on preparing for the future by building out content including a suggested Itineraries page, updating our Trip Planning section, highlighting various Neighborhoods and adding a direct booking function to assist in hotel bookings. Video production also played an important role in showcasing our region on two fronts with seasonally-themed videos as well as those that focused on awareness and the precautions taken by our local partners. In building our reputation as a safe place to visit, we asked several partners for help in producing a video that showcases all of the efforts being taken to make their venues safe. The entire video was real people doing real things, and not scripted. That genuine approach earned a considerable amount of attention, and continues to demonstrate a regional commitment to safety!
Data Highlights: Interest Returning for the Syracuse region
Interest in the Syracuse region based on website traffic data was high at the beginning of 2020, per recorded increased site traffic throughout February and heading into March. This trajectory quickly took a downturn however as the state and much of the country shutdown. By the end of summer the site and interest in the region had started to increase again, outpacing the prior year's traffic during the fall months and heading into the holidays. In looking at regional data, website traffic among regional tourism organizations saw similar trends with Visit Syracuse actually outpacing much of the region by maintaining interest after the summer months and heading into 2021. 

We are also seeing a rebound in interest from drive markets and a slow but consistent recovery from fly markets. The below graph shows the return of interest in our area by percentage for each market segment. While the trend upwards ends the year a bit low, this is typical during the holidays and into January.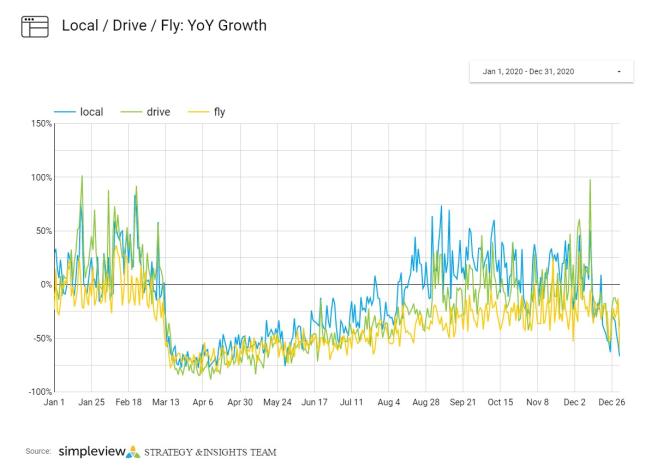 Website traffic data also shows us that there is greater growing interest in the Syracuse area, based on online search habits and when compared to our region, and at times, the nation.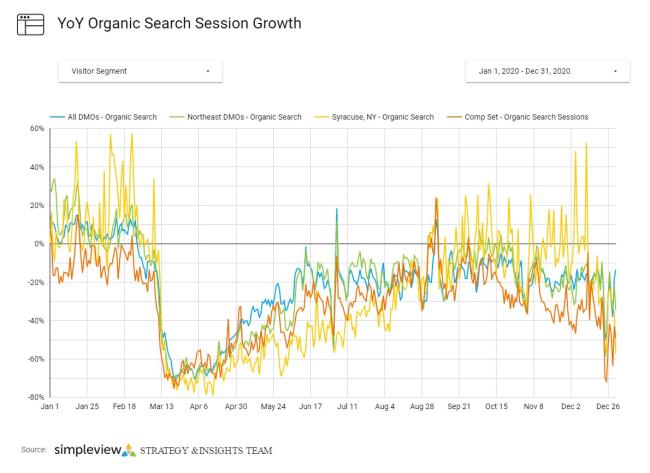 Marketing for the Future, LP&M Campaigns
We also changed our logo and slogan this year, dropping the "Do Your Thing" phrasing. Visit Syracuse went through an extensive RFP process and has hired LP&M marketing agency to assist with priorities moving forward. The current campaign, which is running throughout drive markets within New York State is utilizing the slogan,  "Syracuse, Step Out", and highlights all the amazing resources we have in our region. Everything is tied to safety and growing our reputation in that regard.
In 2021 we will dramatically increase our investment in marketing to be poised to capture travelers post-COVID. Targeted digital campaigns have already started, and will continue to grow as the year progresses. This effort will not only have an impact on leisure travel, but will be tied into our convention sales approach as well. There will be increased investment on platforms such as CVENT to help uncover new business.