Game Day In Syracuse, NY
Go Orange or go home! Syracuse owns college gameday thanks to the Syracuse University Orange, the best bars and pubs, and our best tailgating experiences — just ask Barstool Sports, who named Syracuse the Best Bar Town Champion in America in 2023.
Dome, Sweet Dome
Named one of the top 50 college football stadiums & one of the top 10 best college basketball towns in America by Bleacher Report, the JMA Wireless Dome at Syracuse University is the largest on-campus domed stadium in the country and there's a reason we call it The Loud House — with a capacity of nearly 50,000, the electricity and cheers thousands of fans bring to the stadium is an incredible experience in itself. The Dome has hosted several NCAA East Regional Tournaments and is home to SU's nationally-ranked football team, men's & women's basketball and men's & women's lacrosse. The Loud House isn't only loud during sports seasons either — this historic stadium has showcased music greats such as Bruce Springsteen, Billy Joel, The Rolling Stones, Elton John and Sir Paul McCartney, among others, with plenty more slated for years to come.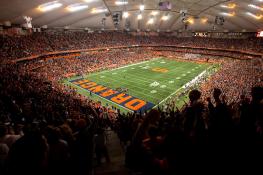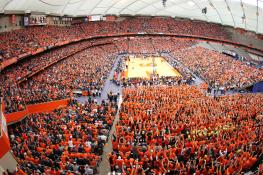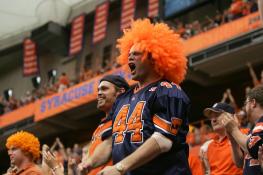 Football
Every September, Syracuse University Athletics kicks off football season with the Orange competing in the NCAA & the Atlantic Division of the ACC.
Basketball
Considered one of the most prestigious college basketball programs in the country, the NCAA Division I Syracuse Orange men's basketball team plays at home at the Dome, as does the NCAA Division I Syracuse Orange women's basketball team.
Lacrosse
Having won 15 national championship titles, the NCAA Division I Syracuse Orange men's lacrosse team boasts impressive stats and dozens of hall of fame alumni. The Orange women's lacrosse team also calls the Dome home.
Although not all of SU's sports teams call the Dome home, we still pack the house
Syracuse University Athletics is home to 20 NCAA Division I men's and women's athletic teams. With a multitude of athletic complexes, SU fans can take in all the action of Orange soccer, field hockey, softball & more.