Central New York's professional hockey team, the Syracuse Crunch of the American Hockey League has provided family-fun entertainment and hard-hitting action at the Upstate Medical University Arena at Onondaga County War Memorial in downtown Syracuse since 1994. In 2020, the Syracuse Crunch's NHL affiliate, the Tampa Bay Lightning became Stanley Cup Champions after defeating the Dallas Stars. As the top affiliate to the Lightning the Crunch watched and cheered as several alumni, including players, coaching and front office, went on to carry the Cup. Read on to discover some of the highlights and connections from the 2020 seasons. 
TampaCuse
As the top affiliate of the Lightning since the 2012-13 season, the Crunch have seen 59 players pass through both the Tampa Bay and Syracuse locker rooms. The 2020 Stanley Cup Playoffs were played in hub cities, due to the COVID-19 pandemic. Within the Tampa Bay playoff bubble were a total of 18 former Crunch players and three previous coaches, including Head Coach Jon Cooper. The Syracuse connection also extended to five executive staff members of the 2020 Stanley Cup Champion organization. 
Record Setter 
Andrei Vasilevskiy set an NHL record for minutes played by a goaltender in a postseason with a tally of 1,708:12. Vasilevskiy spent parts of two seasons with the Crunch and was the winning goalie in the Toyota Frozen Dome Classic, which set the attendance record for a professional hockey game in the United States and was held in the Carrier Dome in 2014.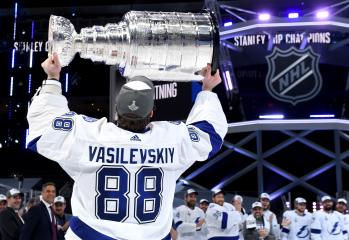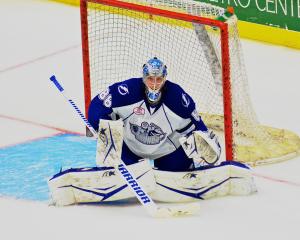 Top Spot
Nikita Kucherov's 34 points, from 7 goals and 27 assists, led all players in the 2020 postseason and were the second-highest total by any skater over the last 20 years. As former Crunch player, Kucherov recorded a hat trick in his first Syracuse home game as they went on to record a 5-1 victory over Rochester on October 12, 2013.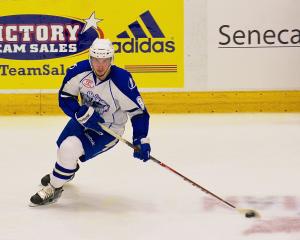 Plus 1
Pat Maroon became a back-to-back Stanley Cup Champion after also winning the 2019 Stanley Cup with the St. Louis Blues. Maroon played with the Crunch during the 2010-11 and 2011-12 seasons while Syracuse was affiliated with the Anaheim Ducks.
Gear Up
Fans can celebrate the Syracuse to Tampa Bay development pipeline with special TampaCuse and We Develop Champions shirts. Or receive 10% off your Syracuse Crunch hat purchase with the discount code VISITSYR. Check out their current Crunch hats online now. For more holiday sports gear ideas check out our Local Sports Holiday Shop Spots.
For the more Crunch news, visit www.syracusecrunch.com or follow the club on Facebook, Twitter and Instagram (@SyracuseCrunch).