Brunch Season: Best Brunch Spots in Syracuse
Friday, March 19, 2021 1:00 AM by Mary Kate Harrigan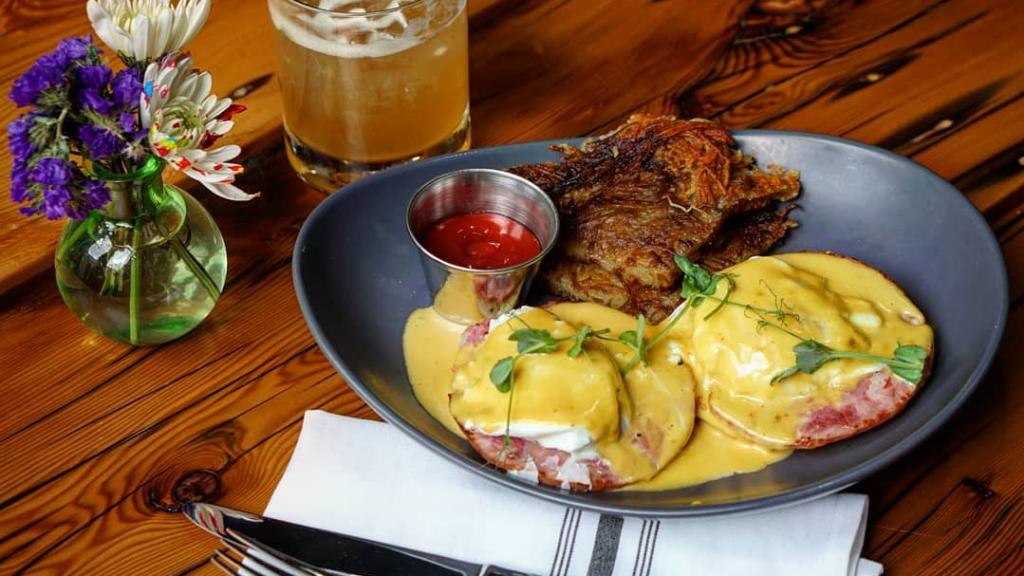 Looking to get your brunch on in Syracuse? We've curated a list of some of our favorite Salt City dining spots that offer bucket-list brunch menus. Get inspired on where to go next for everyone's favorite weekend meal. Check out our unique menus whether you're planning your next special family-friendly outing or looking to have a mimosa-filled Sunday Funday. 
This 1920s themed restaurant boasts a brunch with a delicious menu, a fresh atmosphere and modern twists on classic cocktails.
Menu Highlights: Butter Milk Biscuits & Jam, Quinoa Bowl
Morning Mixers: Aperol Spritz, Alive and Kickin' (cold brew coffee & vodka cocktail)
Rise N Shine just might be the most Instragrammable brunch spot around. Dine on breakfast favorites in generous and photogenic portions.
Menu Highlights: Big Daddy Pancake Wrap, Brownie Belgium Waffles, S'mores Hot Chocolate
Otro Cinco
Mix your mimosas with Mexican flair set to the sounds of reggae at their Reggae Brunch.
Menu Highlights: Pisto Con Huevos, Otro Slammer
Morning Mixers: Mimosa Flights, House Margaritas
This Syracuse brunch stop is a tried and true favorite for locals and visitors alike. Their brunch cocktail menu will wow you and their food will leave you full until dinner.
Menu Highlights: Lobster Benedict, Blarney Rubble, Breakfast Poutine
Morning Mixers: Bourbon BBQ Bloody, Bloody Maryland, Modern Mimosa
OG is the place for adventurous brunchers whether you choose to indulge or continue your health kick! Feast on avocado toast, acai bowls or participate in bottomless mimosas. Their hip-hop brunch is an energetic way to start to your day.
Menu Highlights: Benedict Toast, Purple Swag Smoothie Bowl
Morning Mixers: Bottomless Mimosas, Ciders on tap
Mexican fusion brunch menu items, neon décor and a fun cocktail menu. Take advantage of great photo opportunities while dining on tacos and more.
Menu Highlights: Breakfast Howlito Burrito, Churros
Morning Mixers: Mimosas, XO Bloody Mary Pack To-Go
This historic restaurant is located in the beautiful town of Skaneateles. Old school fine dining remains but their evolving menu adds excitement.
Menu Highlights: Shrimp & Grits with Chorizo and Chili Oil, Eggs Benedict over Crab
Morning Mixers: Burnt Bellini, Bloody Maria
Looking for a kid-friendly option that includes all the best brunch staples? The Brasserie offers a kids menu along with a build your own bloody mary bar for parents.
Menu Highlights: Eggs Florentine, Bloody Mary Grilled Cheese, PB & Chocolate Stuffed French Toast
Morning Mixers: Build-Your-Own Bloody Mary Bar, Breakfast Mule
Wild-caught seafood shipped straight from the coast to your plate with a brunch twist. Take advantage of their outdoor seating in the warmer months.
Menu Highlights: Shrimp and Grits, Smoked Salmon Blinis 
Morning Mixers: Michelada, Sangria, Mimosa
This Hanover Square favorite offers a $20 bottomless brunch beverage special along with a food menu that incorporates locally sourced ingredients.
Menu Highlights: Florentine Benedict, Brunch Poutine, Sweet Cream Belgian Waffles
Morning Mixers: Fresh Squeezed OJ Mimosas, Bloody Mary's
Enjoy a hearty brunch menu along with great deals on "morning pours" that go past the typical mimosa.
Menu Highlights: Chicken & Waffles, Farmhouse Skillet Corned Beef Hash, Power Breakfast Quinoa Bowl
Morning Mixers: Blood Orange Spritzer, Brunch Shot, Irish Coffee
This Sunday brunch spot offers an extensive list of craft beverages on tap, a fun menu full of flavor, a play area for kids and a game room complete with a bocce ball court.
Menu Highlights: 3 Degrees of Kevin Bacon Burger, Buttermilk Buffalo Sandwich, Cajun Fries
Morning Mixers: Craft Beverage Flights, Mocktails
This unique venue has a cafe with an outdoor patio that offers a brunch menu with from-scratch meals using ingredients that'll power you through whatever your day brings.
Menu Highlights: Avocado Tartine, Pesto Tofu Scramble, Savory Porridge
Morning Mixers: Mello Mary, Blood Orange Paloma, Bicicletta
This sister location of the original Rise N Shine offers the same brunch favorites along with a fun drink menu that is just as photogenic as it is delicious.
Menu Highlights: Campfire Nutella Fondue, Pancake Tacos, Cauliflower Breakfast Pizza
Morning Mixers: Caprese Bloody Mary, Mimosa Flights, "Big Kid Pouches"
Authentic Mexican food meets a vibrant atmosphere. Choose from frozen margaritas in jumbo festive glasses or go all out with the shareable Margarita Tower.
Menu Highlights: Fajita Nachos, Make Your Own Combo, Tacos Vegano
Morning Mixers: Cantina Margarita, Margarita Tower, Michelada
Enjoy scenic views, boozy cocktails and hearty plates at Heritage Hill. Their weekend brunch can be enjoyed indoors or outdoors if the weather allows. 
Menu Highlights: Hungry Farmer, French Toast Casserole
Morning Mixers: Beer-Mosa, Roasty & Toasty
Enjoy Sunday brunch surrounded by the French chateau-like atmosphere of Mirbeau Inn & Spa. Their menu is made up of classic brunch favorites with a French fusion twist.
Menu Highlights: Croque Madame, Coffee dusted Steak & Eggs
Morning Mixers: Loaded Mellow Mary, Morning Mule
This gluten-free restaurant and brewery serves up a fun Sunday brunch. Order a draft flight of their signature brews and some flavorful food in their Downtown taproom. 
Menu Highlights: Morning Burger, Sweet Fried Plantains
Morning Mixers: Chai Your Luck, Hello Darkness