The First Annual Syracuse Pond Hockey Classic tournament is set to take place Saturday, February 1, 2020, after being postponed due to warmer than usual January temperatures. Combining a passion for the Strathmore neighborhood, the city of Syracuse and hockey, this first-time event looks to restore community and tradition to the popular Onondaga Park.
We recently spoke with Tournament Director, Tim O'Donnell, on what inspired him to bring a pond hockey tournament to Syracuse and what to expect in its first year.
When did you come up with the plan to start a Pond Hockey Tournament here in Syracuse?
I have been talking about it for years with close friends and my wife.  It was mostly inspired by the park to be honest.  I just thought it was a shame that this beautiful body of water surrounded by such a great park was totally underutilized all winter.  I know long ago it was very active and it frustrated me that there wasn't what I thought was a great winter event held there.  After years of talk my wife finally nudged me into action and here we are!
What goes into preparing pond ice for this type of event?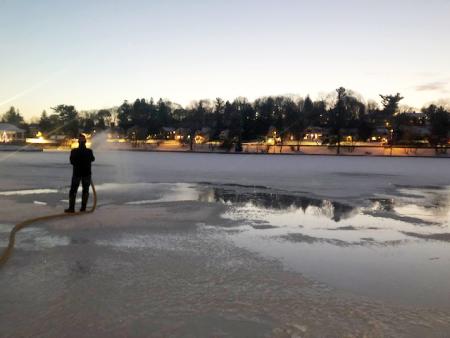 I wasn't an expert before this and am definitely still not one, but like any big undertaking I surrounded myself with people who know a lot more than I do to help guide us.  Especially in this case when safety is first and foremost.  Since we didn't get any help from mother-nature we were forced to spend many hours flooding the lake in the areas we know people will be.  The Syracuse Fire Department and the City of Syracuse, specifically the Parks Department, have been incredible to work with and have been a huge help.  And we definitely wouldn't haven't gotten this far without Matt Bain who runs the Clinton Square Ice Rink.
What are some highlights of the event this year?
The highlight is the event itself.  Hockey is obviously a big part of it, but really it's just a great way to celebrate our city and this beautiful park at a time of year that a lot of us tend to stay inside.  There is something about having an outdoor summer-like festival in the winter!  Food, drinks, music and what we hope is a buzz in the air while watching these teams have a blast out on the ice.  From what I understand there is going to be a lot of talent out there so you won't want to miss it if you're a hockey fan.  And if you aren't come have beer (or non-alcoholic drink of choice) and bite to eat!  There will be plenty of hot cocoa for the kids to keep them warm! There will be public skating throughout the day so bring your skates or rent them from the city for a limited time.
Did teams fill up quickly?
We are very proud to say we sold out our 12 teams in 72 hours and had 50 teams try to sign up after! We were full within one week of going live.  That is a testament to the thirst for hockey in this area and for an event like this.  That and my team member that did the website, Mike Roy, did a heck of a job making us look good! Most of these players are in men's leagues year round.  For the first year at least, since we didn't know how many people we would attract, etc., we just made it a requirement players are 18+.  In the future we may consider a different format that can include more players and youth participants.
The tournament itself, which features 12 teams facing off in 4-on-4 round-robin style play will take place on Saturday, February 1st from 10am – 5pm. While the teams are already filled, family, friends, fans and neighbors are invited to come celebrate this new community event. Click here for more details on the event.