The Second Annual Syracuse Pond Hockey Classic tournament is set to take place Saturday, February 4, 2022, after being postponed due to warmer than usual January temperatures. Combining a passion for the Strathmore neighborhood, the city of Syracuse and hockey, this annual event looks to restore community and tradition to the popular Onondaga Park.
We had a chance to catch up with the Tournament Director, Tim O'Donnell, and here's what he had to say about this year's event in Syracuse, NY.
What inspired you to start the Pond Hockey Tournament here In Syracuse? 
I live just a couple of blocks from Upper Onondaga/Hiawatha Lake.  This park is a big part of our lives particularly in the warmer months and I was frustrated with the lack of activity on what was once a popular place for families to gather to ice skate and play out on the ice.  Every time I drove by the empty ice in the winter I would envision this tournament.  After years of talk, I finally decided to take some action.
What goes into preparing pond ice for this type of event?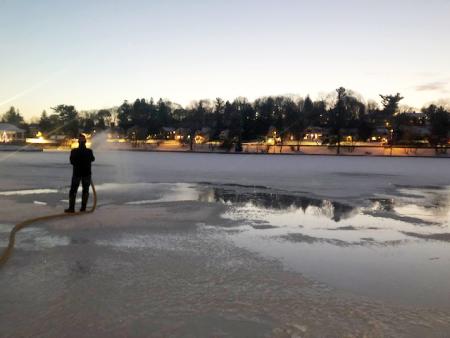 I wasn't an expert before this and am definitely still not one, but like any big undertaking I surrounded myself with people who know a lot more than I do to help guide us.  Especially in this case when safety is first and foremost.  Since we didn't get any help from mother-nature we were forced to spend many hours flooding the lake in the areas we know people will be.  The Syracuse Fire Department and the City of Syracuse, specifically the Parks Department, have been incredible to work with and have been a huge help.  And we definitely wouldn't haven't gotten this far without Matt Bain who runs the Clinton Square Ice Rink.
How does the tournament operate? Style of play, number of teams? Can anyone play? 
The tournament is a one day, round robin tournament.  In year 1, we had 12 teams, but have expanded to 16.  Each team is guaranteed 3 games with the winners and runner ups playing 5 games.  Players are required to be 18+.  This is a pretty competitive event with some former Division I college players so there is a lot of talent out on the ice, which is what we want.
Are you bringing anything new to the table this year? What are some things you'd like to highlight for those interested in coming? 
We are focused on continuing to grow this community, family event by making it more inviting to all.  We continue to offer free public skating with free skate rentals being offered by the City of Syracuse.  Hot food and drinks are available and adult beverages for 21 and over are for purchase.
Can anyone come and watch?  
Yes!  This is a free event to attend and all are welcome!  There is something for everyone whether you're a seasoned hockey fan or new to the sport.  
What makes this tournament special?  
There are pond hockey tournaments all over, but ours is special because it takes place in the heart of our great city in one of the most beautiful parks and neighborhoods around.  Syracuse prides itself on being a gritty, cold weather town and there is a thirst for an outdoor event in the height of winter.  We are proud to be able to put together such an event and hope to continue to grow it for years to come.
The tournament will take place on Saturday, February 4th from 10am – 5pm. While the teams are already filled, family, friends, fans and neighbors are invited to come celebrate this  community event. Click here for more details on the event.