Syracuse's food game is strong — with over a dozen new restaurants opened in 2019 already, food truck round-ups in and around the city, and enough food-themed festivals to satisfy your taste buds on a year-round basis, our city knows a thing or two about serving up impressive eats. And although the Salt City is known for its top notch barbecue (shout out to
Dinosaur Bar-B-Que
and
Limp Lizard
!), veggie lovers and vegans alike can also find savory solace with plenty of vegan-friendly options just in time to prep your taste buds for the upcoming Syracuse Vegfest at the New York State Fairgrounds this fall. Even if you're not vegan, these restaurants are so good, with menus so unmatched, they may make a convert out of you.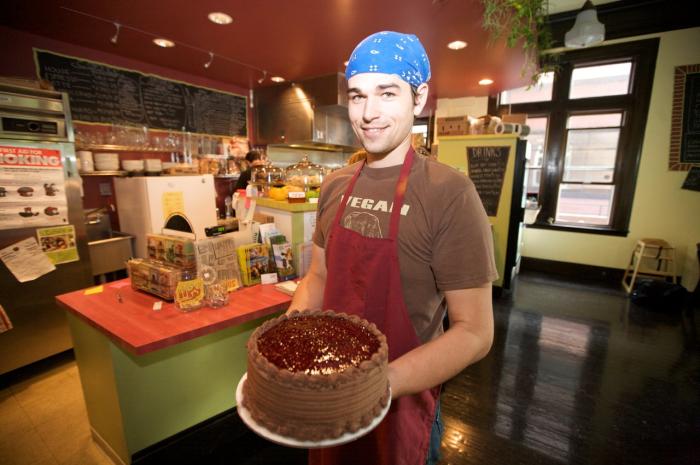 If you've never heard of one Syracuse's most loved and top-rated vegan restaurants, we'll forgive you. But only after you've tried one of their 40+ delicious (and equally famous) "milk" shakes. In 2015, the People for the Ethical Treatment of Animals (PETA) recognized Strong Hearts as one of the Top 10 Places in the United States for Vegan Sweets, thanks not only to their legendary milkshakes (the Farm Sanctuary shake was also named one of
PETA's Top 10 Vegan Desserts of 2017
), but also for their tasty spread of
cupcakes, whoopie pies, cookies, cakes and more
. You can definitely eat dessert here first, but be sure to sample their other vegan faves like the
"chicken" salad sandwich, grilled cheese, limitless scrambles and French toast from their full breakfast menu, the Reuben, Friday night pizzas and more
. And lucky you, Strong Hearts currently has two locations (
East Genesee
and Syracuse University) to fill your belly no matter what part of the city you're in.
Behold the power of bone broth. And grain bowls. And green bowls. With locations in North Syracuse and their latest on the east side in DeWitt, CoreLife Eatery is one of the newer kids on the city's vegan block, offering up several vegetarian, pescetarian and vegan options (including vegetable broth bowls) all made-to-order in a prompt, cafeteria-style line-up. Get your greens or grains fix with the vegan Sriracha Ginger Tofu and Ancient Grains bowl or Sriracha Ginger Roasted Tofu Greens bowl. Or warm up with the Shiitake Mushroom and Roasted Tofu vegetable broth bowl. It's the new wave vegan fast food revolution.

For 20 years, Alto Cinco has been serving up trendy Mexican food with a contemporary flare in Syracuse's charming and eclectic Westcott neighborhood. And hold on to your seats because we have two words for you: vegan nachos. Rediscover your love for Mexican folk art, fresh vegetables and possibly the best guacamole in town by joining friends at this Frida Kahlo-infused spot. Alto Cinco offers brunch, lunch, dinner and late night dining options, with each menu extending vegan and vegetarian options to warm your sacred heart. Alto's sister location downtown, Otro Cinco, also serves up plenty of vegan and vegetarian options so you can cover all your bases no matter what style Mexican dish you're craving.
Looking for a little Thai flavor that packs a made-to-order vegan punch? Thai Love NY on the city's north side in Mattydale has you covered. Customers rave about the vegan-friendly options with affordable price tags, recommending the Pad Thai, Tofu Satay, Tom Kha Soup and Gang Dang Curry. The possibilities are endless at this hidden gem; check it out the next time you're craving anything from mild to atomic heat.

Beachy, hip hop, electric West Coast vibes with some of the tastiest vegan and vegetarian plates in the heart of downtown Syracuse — Original Grain's menu is just that: original. All of their smoothies pack a pleasant vegetarian punch (that's right, they're all vegetarian!), and their full menu offers a handful of vegan, vegetarian, dairy-free and gluten-free grain bowls, green bowls, noodle bowls, smoothie bowls, toasts, sandwiches and nori wraps. We recommend the mañana nori: pineapple, jalapeño, avocado, black beans, pickled red onion, cilantro, carrot and cumin dressing. You won't run out of options at OG, but your stomach may run out of room.
The Stoop Kitchen
The original Stoop opened in 1994 and in 2006, The Stoop "took a semester abroad and grew up a little," reopening its doors (and floors) in 2017. The first floor welcomes patrons with the Stoop Bakery Café and spacious bar, serving up seriously scrumptious baked goods and cocktails. Upstairs get ready to indulge in delicious vegetarian options, as well as some unique vegan plates that you can share with your friends, like the delightful seared brussels, hummus plate, chick pea panisse, or tagine with root vegetables. And save room for dessert — The Stoop has a one-of-a-kind vegan cherry cheesecake made with coconut cream cheese, toasted coconut butter and sweet and sour cherries. YUM.

"Get down, eat up." Easy enough. Beloved Funk 'N Waffles started out on the SU Hill, expanding its presence downtown nearly five years ago. The space offers live music every night and the best assortment of savory and sweet waffles the city has to offer. And what's more? There's delectable vegan options to boot. Give the
Aunt Miriam's vegan waffle
a try: a fluffy, home style waffle topped with strawberries and maple syrup. Or try the exclusive
falafel waffle
, topped with Israeli salad and tahini. Or the
vegan egg sandwich
with your choice of vegan cheese and option to add vegan sausage. Also offering gluten-free selections, you can build your own waffles with the buckwheat batter (gluten-free), falafel batter (gluten-free and vegan), or vegan batter and top with whatever fixings, sauces and spreads you're craving.
Featured on Food Network's Diners, Drive-Ins & Dives
, this downtown waffle house will satisfy whatever flavors you're craving, musical performances included.
What started off as a bicycle commuter services and repair shop in the Westcott neighborhood of Syracuse in 2009 and spun off into a community space to hang and grab a bite to eat and a drink to sip, Mello Velo opened its café in 2011 and quickly outgrew the space, moving to their current location on Canal Street. The bicycle shop and café not only offers visitors a place to chill and talk trails, but also extends a full menu with vegan options. Pedal over to the shop to enjoy topped vegan toast, pesto tofu scramble or porridge for breakfast (served all day). Or stop in for a fresh lunch of their house salad, non mi or beet hummus plate. And for dinner, get the energy you need to tandem home by grabbing a plate of their mandarin orange glazed crispy tofu with sesame rice and ginger.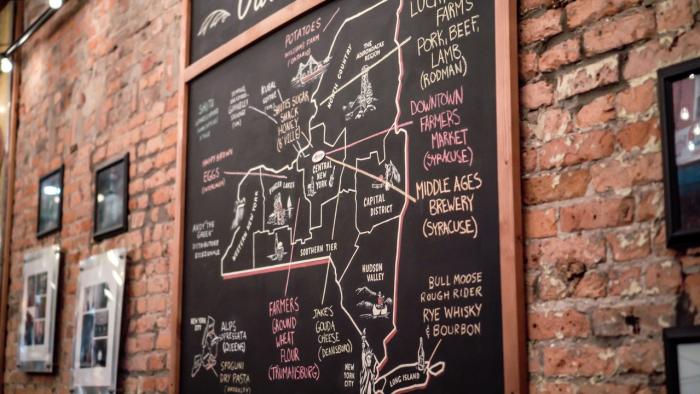 In the mood for Neapolitan wood-fired pizza baked in a custom built oven imported from Naples — bonus points if it's vegan? Look no further than Apizza Regionale. Renowned for their out-of-the-ordinary pizzas, seasonal cocktails and elegantly urban space, Apizza makes it easy for vegans to try a pie off of their rotating menu. With
vegetarian, vegan and gluten-free substitutions and selections
available, Apizza has partnered with local
PMA Foods
to offer a
non-dairy cheese
for vegan customers. Just pop in and ask your server for details. We promise you won't be disappointed.
Peppino's Neapolitan
Baking up gluten-free and vegan pizza options, enjoy a Peppino's Vegan B.R.A.S.S. pie fixed with all natural tomato sauce, broccoli, roasted red peppers, artichokes, Daiya cheese and spinach on sprouted wheat dough or a base vegan pizza with Italian tomato sauce and Daiya cheese. And if Neapolitan-style pizza is what you're after, Peppino's offers the Vegan Mediterranean with a surplus of toppings like falafel and tofu tzatziki, or the Vegan Morocco packed with Moroccan tofu, arugula, cherry tomatoes, fried chick peas, fresh lemon, vegan cheese and nooch.
An Armory Square burger bar and poutinerie with an extensive draft list and so many gluten-free and vegan options, they actually have separate menus for each preference. If you're looking for pub style vegan bites, The Hops Spot has everything from poutine, to loaded fries, Sriracha tofu, classic hummus, salads and Beyond Beef burgers. The Hops Spot also hosts Tuesday Trivia, beer dinner events and bocce tournaments — it's your hoppy one-stop spot.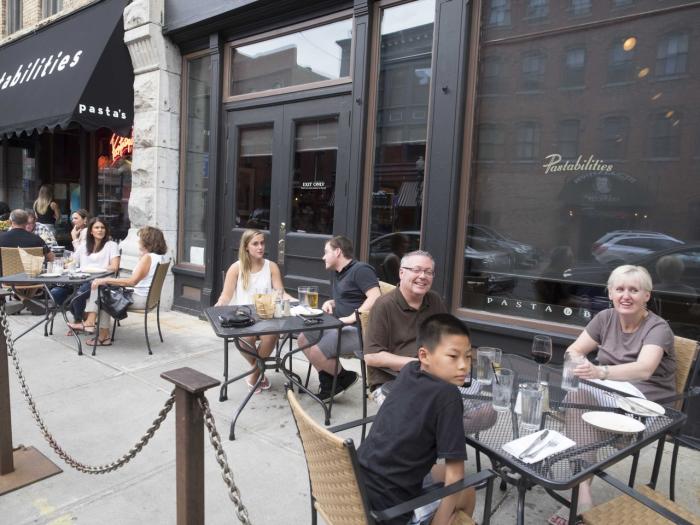 For over 35 years, Pastabilities has been a staple in the downtown Syracuse dining scene and in our diets. Pasta, bread, spicy hot tomato oil — what's not to love? And if you're searching for top notch vegan Italian options in Armory Square, Pastabilities offers a multitude of menu options, including the mouthwatering basil-walnut pesto pasta, or the mushroom Bolognese over Pasta's Daily™ Campanelle with vegan ground "beef," cremini mushroom, red wine, tomato ragu and topped with vegan feta. And save some space for sweets — vegan cherry-apricot lemon olive oil "short cake" with coconut whip, anyone?
More Vegan Options Around Syracuse
Bliss Ice Cream Stand
"Amazing vegan soft serve ice cream!!" "And a great place for dogs." A win-win according to Google reviews. A truly blissful North Syracuse spot for those looking to indulge in sweet vegan delights, Bliss Ice Cream Stand has a separate vegan menu loaded with sundaes, milkshakes, flurries, soft ice cream, floats and sodas and specialty items. You may never visit another ice cream stand again.
Every Wednesday and Saturday, Syracuse's most talked about donut shop serves up vegan and gluten-free treats that are so Instagram-worthy, it's scary. Oh, and they're unbelievably tasty too.
This micro brewpub in the Westcott neighborhood boasts a taproom with house made
vegan seitan sandwiches and a vegan "sammie of the week,"
as well as
vegan cheese options
to garnish all foods on their menu. And on June 22, 2019, join them for their family friendly
Vegan CNY Sunday Brunch Event
.
East Syracuse-based Hercules Candy Company is known to satisfy any sweet tooth with their mouthwatering line of yummy vegan chocolates. With
potato chip bark, chocolate nut clusters, chocolate covered pretzels and marshmallows and good old fashioned candy bars
, Hercules expanded its vegan line due to customer demand, and you'll be glad they did. Check out their insanely popular
YouTube channel
to see how they've been supporting our cocoa habits since 1910.
With most of their menu items being vegan, it's no secret that local and visiting vegans flock to The Sweet Praxis. Their popular
vegan croissants and vegan donuts
are made from scratch and served up daily. Other vegan favorites include the
croissant/muffin hybrid, a "croiffin," cookie sandwiches, peanut butter buckeyes and more
. The Sweet Praxis keeps their menu fresh by rotating items on the regular, so be sure to
follow
them to check out their latest creations.