Thanksgiving Dining in Syracuse: Take-out or Dine-in Options
Monday, November 9, 2020 1:00 PM by Mary Kate Harrigan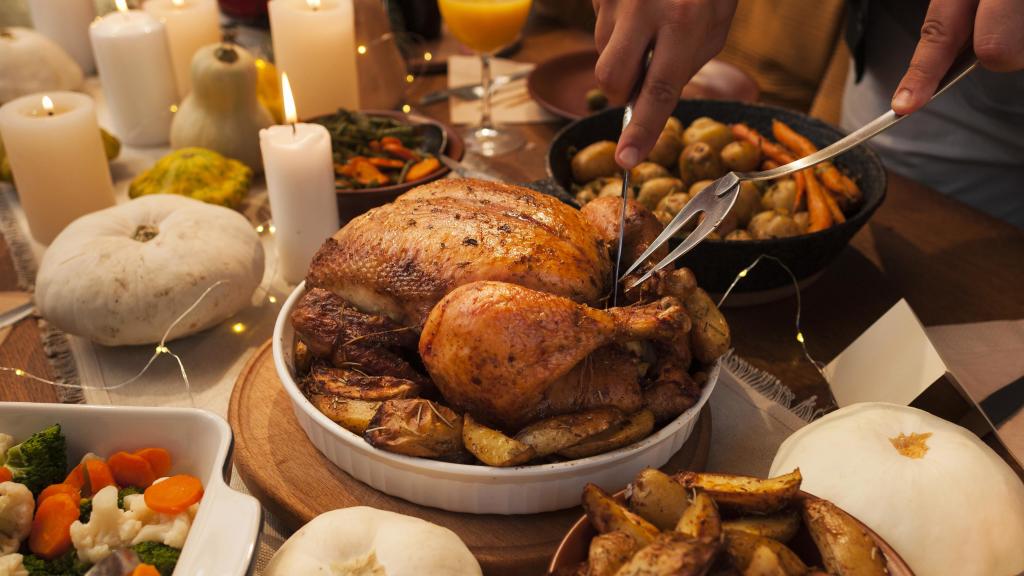 If there's one thing people love about Syracuse, it's the food! So where better to spend the one day a year dedicated to eating? Whether you're alone, spending the day with loved ones, in town for a brief stay, or your dog ate your holiday dinner – just know you have options in the 'Cuse to gobble up your best Thanksgiving meal yet. Here are a list of local restaurants open and ready to serve up deliciousness on Thanksgiving:
*Please note: Due to Covid-19 be sure to plan ahead and call for dine-in reservations. Take-out orders must also be prior to Thanksgiving so make sure to check the dates each location requires for ordering. 
Brae Loch Inn- Take-out or dine-in options. Celebrate an American holiday at a Scottish Inn with a classic turkey dinner and all of your Thanksgiving favorites.
The Brewster Inn- Take-out option is SOLD OUT. Dine-in still available. Choose from either their regular dinner menu or select their Thanksgiving Turkey Dinner special.
Cathy's Corner Café - Take-out only. Select your dinner size from individual up to 10 people. Don't forget to add on a whole pie, or just a slice. Apple, pumpkin, pecan, chocolate cream, banana cream and coconut cream available for order. 
Craftsman Inn -  Choose from a specialty Thanksgiving at Home menu or dine-in and choose your favorites from their Thanksgiving Prix Fixe menu. Enjoy turkey and green bean casserole, among other offerings on their take-out menu or select your meat choice from, salmon, turkey or prime rib, plus a variety of sides, on their prix fixe menu.
Dinosaur Bar-B-Que - Featuring a pit-roasted turkey, this popular barbecue spot is offering a Deluxe package with turkey, sides and two pies to serve 8-12 people, or just order the turkey and gravy and fix the sides yourself!
Doubletree by Hilton Syracuse - Enjoy a classic Thanksgiving Dinner To-Go featuring a corn bread stuffing and the option to add a pumpkin pie. Orders must be received by 11/19. 
Fireside Inn - Enjoy a Thanksgiving Day Feast to-go that serves 8-10 people, orders must be placed by 11/20. Or dine-in with a Thanksgiving dinner. 
Inn Between - Dine-in (limited availability) or take-out options. Choose your entree from turkey, filet mignon, prime rib, salmon, roast duckling, stuffed shrimp or a Maine lobster plate. All meals come with sides, salad and more. 
Mirbeau Inn & Spa - Dine-in only. Enjoy a fabulous menu featuring savory appetizers, seasonal dishes and fabulous desserts. The French wine county estate inspired architecture will make the experience one to remember.
Peppino's - Take-out only. Select from their pre-set menus for two, five or ten people, purchase just the turkey or choose from their a la carte menu, either for a solo dinner or to add-on to your meals! Pumpkin and apple pies are also available. Orders must be placed by 11/23.
The Krebs - Enjoy a prix fixe menu featuring your classic turkey dinner alongside first course options including parsnip and grilled escarole.
The Sherwood Inn- Offering both Thanksgiving Dinner dine-in and take-out options, including a slow roasted turkey, starter options and your classic Thanksgiving sides, as well as your choice of apple, pecan or pumpkin pies. 
Tailwater Lodge - Dine-in only. Choose from either their full dinner menu or specials including a Thanksgiving Feast of turkey, mashed potatoes and more, or Italian Sausage & Applewood Bacon Mac & Cheese.
Tassone's Wine Garden- Take-out or dine-in options available. Select their Thanksgiving Family Pack or choose one from of their additional family pack options such as prime rib, ham steak and more! Thanksgiving Family Pack orders must be placed by 11/22.
The Inn of the Seasons - Available for take-out or dine-in. Offering a Thanksgiving Dinner Special with all your turkey day favorites, as well as a large selection of additional entrees including filet mignon, haddock gratin, a ravioli platter, vegan marinara and more! Take-out orders must be placed by 11/24.
Desserts
Just looking for something sweet this Thanksgiving? Look no further than these local bakeries offering pies and more to please even the pickiest foodie! 
Cafe Kubal - Everyone's favorite coffee spot is now accepting pre-orders for homemade pies, including apple, pumpkin and pear-almond. 
Sweet Praxis - This downtown bakery is offering more than just pies, their "Pie-it-Forward" is the ultimate Thanksgiving kindness! The bakery has partnered with the Syracuse City School District to donate pies to a child in need for the holiday. Either purchase a pie to donate or offer a monetary donation (up to $50) on their pre-order site before 11/19. Customers can then also select their own pre-order pie with options including salted caramel apple, chai spiced pumpkin, citrus cranberry tart and more! Last day for ordering is 11/21.
Exhale Cafe & Bakeshop - Select from a variety of pies including mini pies and hand pies, you might just need to order more than one! Options include dutch apple pie, pecan pie, a pumpkin roll and more. Call or stop in to order.