Go Chasing Waterfalls
Wednesday, June 5, 2019 10:00 AM by Paris Babers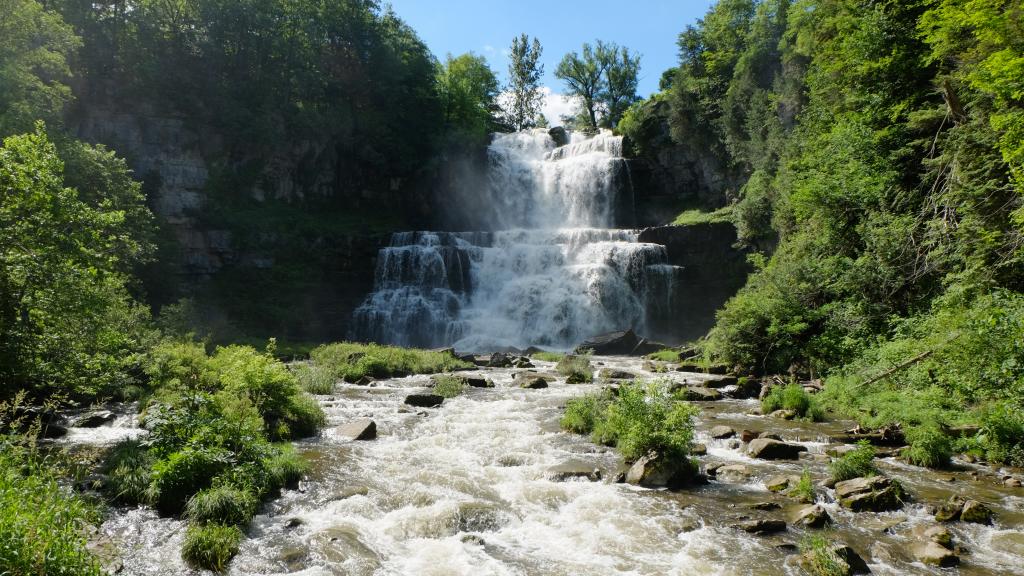 Don't Go Chasing Waterfalls Near Syracuse
The 9,000 square mile region of the Finger Lakes is known for breath-taking waterfalls especially in Ithaca and Watkins Glen but who knew there were so many of them within short drives from downtown Syracuse?
As the most eastern point of the Finger Lakes, the Greater Syracuse Area/Onondaga County shares similar features with the rest of the region, including sparkling waterfalls. 
Tip: Wear comfortable shoes suitable for hiking and walking through the woods/water. Take a camera and don't forget to share it on social: #VisitSyr
Carpenter Falls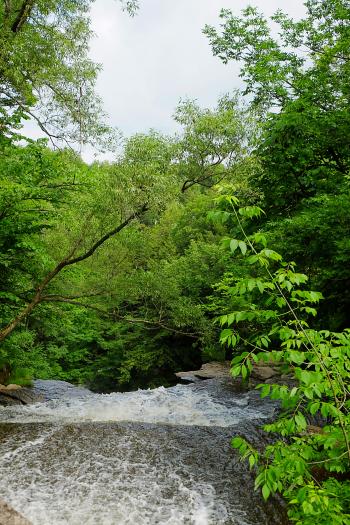 Location: Skaneateles, NY (35.2 miles from Syracuse)
Difficulty: Medium-Hard
Accessibility: Walk over tree roots and through mud on a make shift and narrow path of a hillside with a river running below it
Parking: Free; the lot holds about 8 cars or less
Waterfall Size: 90 ft.
Exploration: Walk the entire preserve and run into Angel Falls (62 ft.) and further along Skaneateles Lake
Area: Quiet area, near Skaneateles
Nearby Eats: Grab a glass of wine and cheese plate at Anyela's
Additional Comments: There is a rope connected to two trees that takes you to the bottom of the falls for a better view. The most adventurous hikers may opt that route but proceed at your own risk. I met a very active couple chasing waterfalls across Upstate NY and they recommended buying a pair of hiking sticks as well.
Chittenango Falls State Park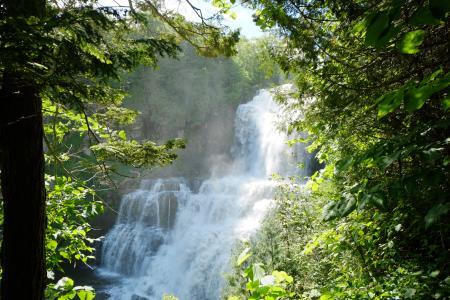 Location: Cazenovia, NY (21.1 miles from Syracuse)
Difficulty: Medium
Accessibility: Requires stairs, the park has an overlook access that is a beautiful view from the top
Parking: Simple and pay to park (Mon-Fri- $3, Sat & Sun-$5)
Waterfall Size: 167 ft.
Exploration: Picnic areas, Playground, and hidden trails
Area: Check out downtown Cazenovia and Cazenovia Lake
Nearby Eats: Nosh on the BBQ Pork Nachos at  Empire Farm Brewery
Additional Comments: Great for pictures because of short hike and view from bottom. Pet-friendly.
Fillmore Glen State Park (Cow Shed Falls)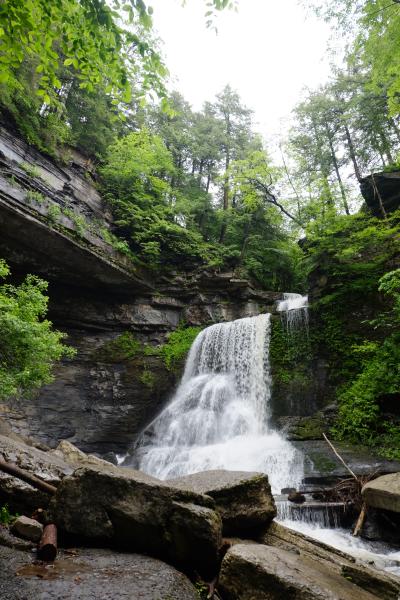 Location: Moravia, NY (46.9 miles from downtown Syracuse)
Difficulty: Easy
Accessibility: Easy to get to
Parking: simple and large lots (park in "Picnic Area"); pay to park ($7)
Waterfall Size: 37 ft.
Exploration: There are a total of 5 waterfalls in this park; Picnic areas, Swim in the lake during summer hours, Restrooms
Area: Grab a local pizza in Moravia or Subway/Dunkin' Donuts at the gas station across from the state park before heading in
Additional Comments: Park in the "picnic area" then walk the "Cowshed" trail for a short distance and reach a waterfall quickly. Dog friendly
Marcellus Falls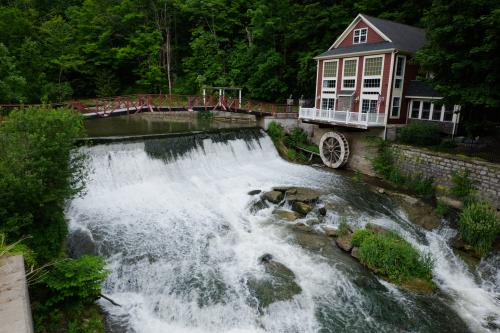 Location: Marcellus Falls, NY (7.1 miles from Syracuse)
Difficulty: Easy
Accessibility: not accessible
Parking: No parking available; view from vehicle
Waterfall Size: Good size with beautiful combination of the house
Exploration: There is a stream called Nine Mile Creek that stretches below this sight which is great for fishing and dipping your feet in the water
Area: In-between Camillus and Marcellus, NY 
Nearby Eats: Mix up your trail mix and satisfy your sweet tooth at Chocolate Pizza Company
Additional Comments: This is not a hike, but rather a sight that is fun to see from your car.
Pratts Falls Park
Location: Manlius, NY (15.3 miles from Syracuse)
Difficulty: Easy-Medium
Accessibility: Easy to get to (requires some stairs); there is also an overlook at the top of the falls that you can walk right up to
Parking: Very large parking space; pay to park ($2)
Waterfall Size: 137 ft.
Exploration: Picnic benches, Volleyball net, Restrooms, and Archery range
Area: Rural roads, so pack a sandwich or take a quick drive 2 miles up the road to enjoy another stellar view at Heritage Hill Brewhouse and Kitchen on Sweet Road
Additional Comments: Trail to waterfall was 0.6 miles; there were four other trails to choose from, ranging 1.2-2.6 miles long
Tinker Falls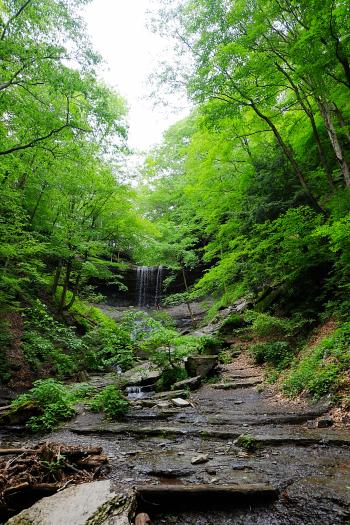 Location: Truxton, NY (22 miles from Syracuse)
Difficulty: Easy
Accessibility: large, well-paved 0.20 path
Parking: free roadside parking across the street
Waterfall Size: 50 ft.
Exploration: Tinker Falls
Area: Near Tully; Check out Sweet Basil, Ice cream shops, and coffee shops
Additional Comments: You can go behind the falls by taking the "Scenic Overlook" (2 mile) trail. Water flow of the falls is low, but still enjoyable. The falls are located within the Labrador Hollow Unique Area. Mobile service may be lost at the base of the falls.
Delphi Falls
Location: Cazenovia, NY (23 miles from Syracuse)
Difficulty: Easy
Accessibility: Handicap accessible stone dust path
Parking: Free parking lot 
Waterfall Size: Lower Delphi Falls (65 ft.) and Upper Delphi Falls (52 ft.)
Exploration: Lower Delphi Falls, fishing, Limestone Creek
Area: Neighboring Cazenovia; take a quick drive up to Critz Farms and their Brewing & Cider Co. for a quick bite and to sample some of their farm-brewed beverages
Additional Comments: Recently privately-owned, Delphi Falls opened to the public in August 2018. The previous owner's residence remains on the property and Madison County has plans to build upon the property in the coming years, including expanding the trails to include upper Delphi Falls. Visitors can view the lower falls with just a quick .2-mile walk from the parking lot. 
Be safe, enjoy your hikes, and happy trails!