Juneteenth is an important holiday that commemorates the day of emancipation from slavery in Galveston, Texas on June 19, 1865, which was the last state to do so. Since then, Syracuse New York has played an important role in the State of New York in achieving and maintaining freedom, equality, and opportunity for African Americans. Central New York is home to many early abolitionists and civil rights advocates.
The Syracuse Juneteenth Festival begins on June 17th and festivities continue into Saturday the 18th, taking place at Syracuse City Hall. This year's festival will be the first in Syracuse, New York since Juneteenth became acknowledged by both state and federal governments as a national holiday. This year's event will be an especially important and memorable celebration of Black food, fashion, art, stories, and entrepreneurs.
This year's event schedule is listed below, be sure to keep up to date with Syracusejuneteenth.org as details of the event become finalized in the coming weeks.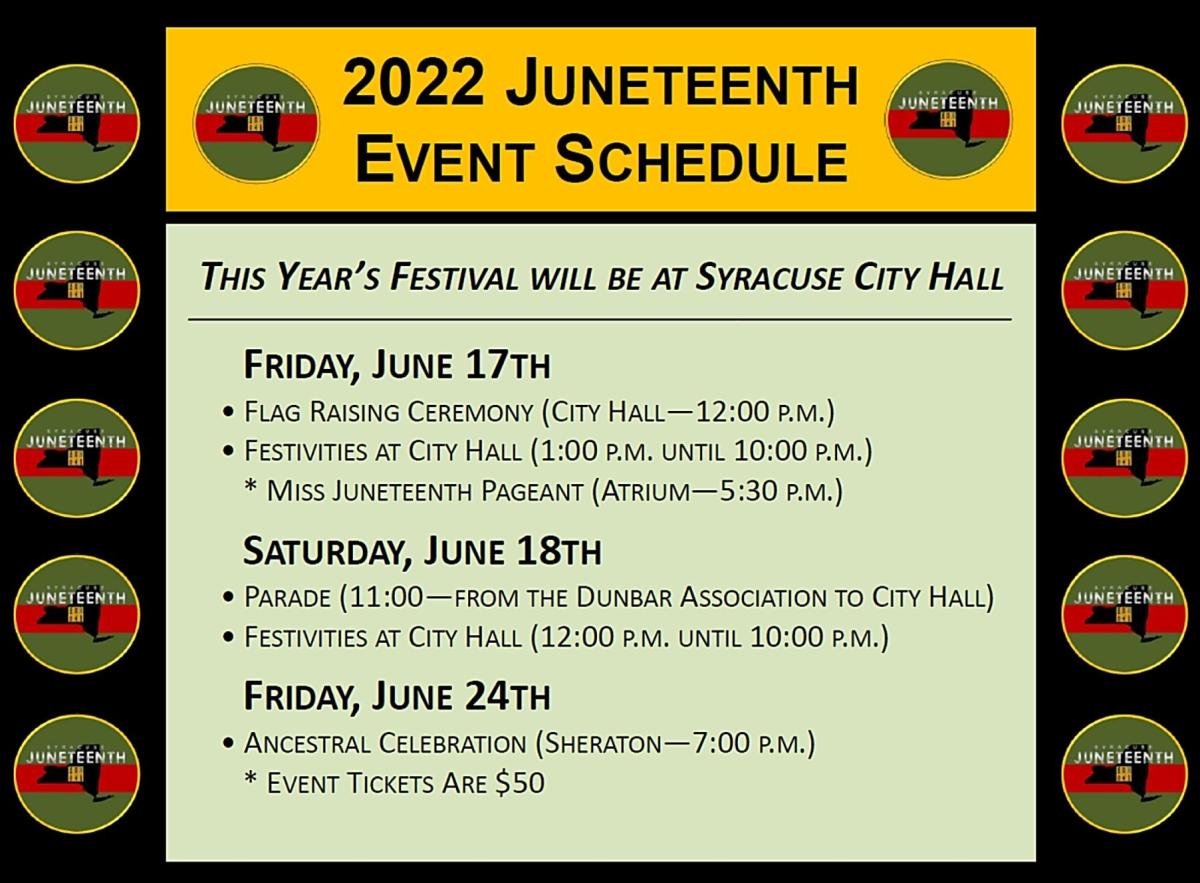 Friday, June 17th
-          Flag raising Ceremony - 12 pm outside City Hall
-          Miss Juneteenth Pageant - 5 pm Atrium 
-          Local Artists
-          Atlas
Saturday, June 18th
-          Juneteenth Parade - 11 am from Dunbar Association to City Hall
-          Lindsey Williams and Divine Connection
-          Local Artists
-          Headliner, Jon B
Friday June 24th
-          Ancestral Celebration – Sheraton Hotel at Syracuse University
-          UAD, Brownskin Band, The Blacklites
-          Trumptight 315, DJ Showcase
Did you know?
The Jerry Rescue Monument located in historic Clinton Square is a dedication to William "Jerry" Henry, a Freedom Seeker from Missouri. He was arrested in Syracuse and planned to be returned into slavery, until brave abolitionists worked to assist him to freedom to Kingston, Ontario.  
The Central New York Freedom Trail is another significant historic movement. In fact, Syracuse was known as the "Great Central Depot" of the Underground Railroad of New York State. Thousands of Freedom Seekers traveled to Syracuse by canal, road, and railway on their journey to freedom. By the 1850s, Syracuse was known and celebrated as the "Free City" and the "Canada of the United States".
More Syracuse Juneteenth events can be added to our calendar throughout the month on Visit Syracuse's events page.