Must-Try Fried Favorites at the Great New York State Fair
Tuesday, August 6, 2019 11:00 AM by Mary Kate Harrigan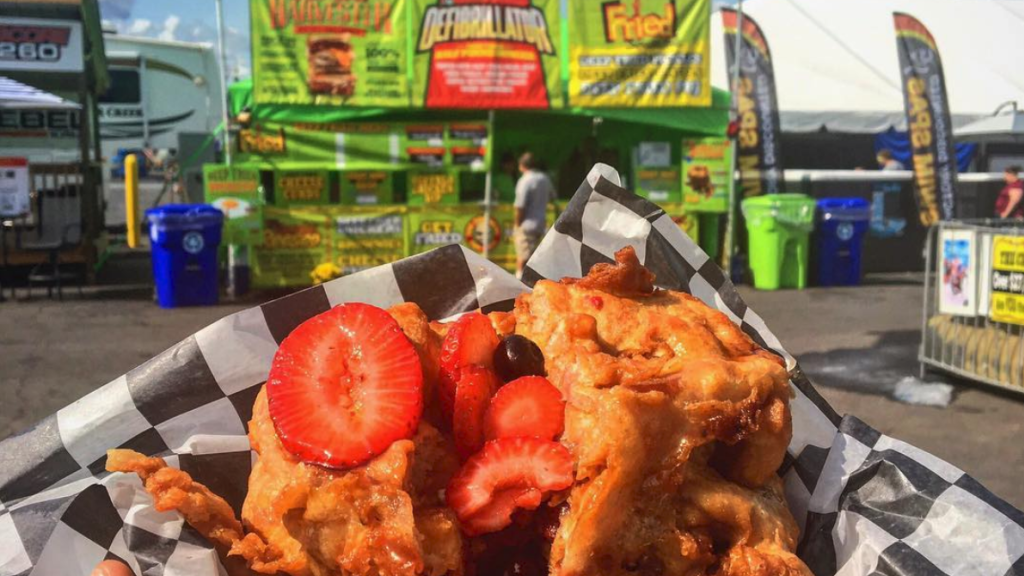 Where's the best place to get your fried food fix this summer? The Great New York State Fair! We're here to cover all the best fried foods and treats so you can make the most of your Fair experience. From the purely delicious to bizarre, all of these items might take a few hundred laps around the midway to burn off, but there's no other way to treat yourself than by pigging out at the Fair. Enjoy your visit to The Great New York State Fair and you can thank us when you bite into one of these fried masterpieces:
The Sudden Death- Jim Hasbrouck's Fried Specialties
What happens when you deep fry two bacon wrapped hamburgers with mac & cheese, pork belly and jalapenos? The Sudden Death is born and served with a side of nacho cheese. Be one of the first to tried this new fried food at the NYS Fair this summer. 
Deep-fried Breakfast- Jim Hasbrouck's Fried Specialties
No need to wait until lunch or dinner, start your fried food journey with breakfast. The deep-fried breakfast is composed of breakfast sausage, bacon, ham, hash browns, cheese and eggs assembled between two pieces of French toast. The concoction is then wrapped in a cinnamon roll, coated in cinnamon batter then fried and topped with real berries and maple syrup. Don't blame us if you're too full after to try our next items but it's certainly a delicious way to start your day!
Big Kahuna Donut Dog- Big Kahuna
A Great New York State Fair staple, the Big Kahuna Donut Dog delivers something for both the salty and sweet loving fair-goers. This menu item is the best of both worlds. It consists of a hotdog wrapped in bacon with a maple glazed Long John donut serving as the bun.
The Difibulator- Jim Hasbrouck's Fried Specialties
Can't decide which food item you want to treat yourself with during your visit? Why not try them all in one meal. Jim Hasbrouck's Fried Specialties pushes the limits with this one but nevertheless makes it a unique Fair food item not to miss. The Difibulator is made up of an angus beef burger, topped with deep-fried pickles, deep-fried cheese curds, deep-fried bacon slices then topped with cheddar cheese all between two grilled cheese sandwiches.
Fried Gator Mac n' Cheese- Chester's Gators and Taters
Hailing from the South this stand certainly does its thing in Syracuse during the Fair by offering an adventure for foodie fairgoers. The Gator Mac n' cheese consists of a heaping boat of mac n' cheese topped with delectable fried gator pieces. It's not one to miss!
Caramel Crack Fries & Flamin' Hot Cheetos Fries- Big Kahuna
These two new takes on classic fries are here to surprise. You can opt for the Sweet Caramel Crack Fries or keep it spicy with the Flamin' Hot Cheetos Fries. Try them both and pick your favorite. 
The Harvester- Jim Hasbrouck's Fried Specialties
Your traditional Thanksgiving meal might not compare after trying this one as it combines the best of the Holiday with fried Fair goodness. This item starts with turkey, mashed potatoes, stuffing, and bacon- which is then all deep-fried to perfection. The Harvester is then topped with cheese and cranberry sauces and placed between two slices of sourdough bread.
The Heart Attack- Jim Hasbrouck's Fried Specialties
Want to try a local Hofmann hot dogs but too adventurous for just ketchup and mustard? Enter "The Heart Attack" which is appropriately named considering it consists of 2 Hofmann hot dogs stuffed with chili, wrapped in bacon then deep-fried (do you sense a theme here?). If that's not enough food action for you then you'll be happy to know this fried favorite is then topped with chocolate sauce, a Hershey Bar and sliced jalapenos- you'll have to try it to believe it!
Bonus: Chocolate Covered Crickets and Grasshoppers- Jim Hasbrouck's Fried Specialties
Jim Hasbrouck once claimed he can fry anything, known for testing the limits of fried goodness he has now decided to offer chocolate covered deep-fried crickets and grasshoppers on a stick. For culinary dare devils, we commend the bravery of anyone who decides to try this one.