Celebrate Black History Month in Syracuse
Saturday, February 15, 2020 12:00 AM by Elizabeth Judge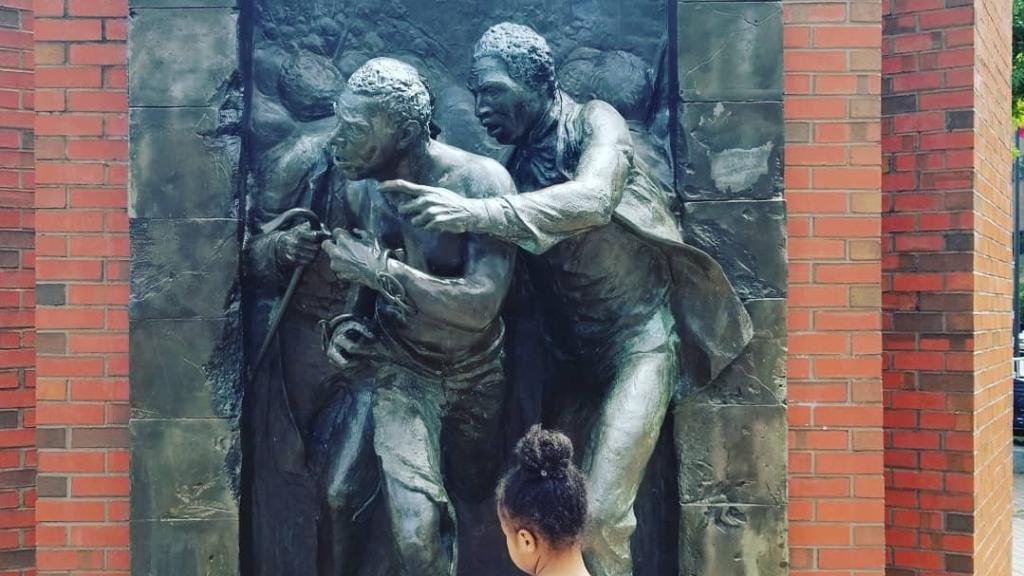 Syracuse is a city with a rich history of African American culture. From early abolitionists and the Underground Railroad to the 15th Ward and the city's resurgence of the Salina St. corridor. Syracuse is also home to dozens of black-owned businesses and events to celebrate all year. This month we celebrate all of this a little bit more, but Syracuse's Black History is on display year-round.
History & Culture
Walk through History
Take a self-guided tour along Syracuse's own Freedom Trail and experience the history-making sites of the Abolitionist Movement. The Trail commemorates places, people, and events of the 19th century. Along the way, visitors can view signs and markers that share information and historical lessons of this movement. The Trail winds throughout downtown Syracuse and includes highlights such as the Jerry Rescue Monument, Plymouth Church, Courier Building and the Mission restaurant, formerly the Wesleyan Church. Click here for a map of locations.
Faces of the Underground Railroad
Dedicated to the history of anti-slavery and Underground Railroad activity in Onondaga County, the Onondaga Historical Association's Freedom Bound exhibit personalizes the story of the Underground Railroad while educating visitors about slavery, abolitionism, tolerance, and the meaning of freedom through a highly immersive experience. See the gallery come alive with the lights, images, voices, sounds, and music of the period, helping to tell this important piece of our local history.
Discover Harriet
Established in 2017, the Harriet Tubman National Historical Park features the Harriet Tubman Residence as well as the Thompson Memorial African Methodist Episcopal Zion Church, a Visitor Center and the Tubman Home for the Aged. Discover Tubman's core values as you walk through the homestead with a guided tour of the property. Finish off this historical trip with a visit to the Fort Hill Cemetery, where Tubman is buried.
Virtual History
Now you can explore Our Stories: A Virtual Black History Museum, from anywhere. The Black History Preservation project honors and celebrates the history and heritage of black people in Syracuse and Central New York. The virtual community museum currently stores over 220 pieces of Black History, including audio interviews, newspaper clippings, photographs and more. The documentary, Syracuse's 15th Ward and Beyond can also be found on the Museum's site.
Events
Onondaga County Public Libraries
Four libraries within the County are offering a multitude of special events throughout Black History Month. Highlights include searching your family tree, film viewings and discussions, artist displays, and button making. Check out their website for a full list of dates and events. They also offer a Black History Month Trivia sheet.
Syracuse University
The University kicked off Black History Month with The Black Lounge, an annual dinner and music celebration. Events continue throughout the month including a Martial Arts Expo, Sankofa Alumni Lecture Series, and the NAACP's 11th Annual Lupus and Sickle Cell Banquet. Find their full list of events here.
February 15, 2020; 11am – 1pm
SUNY Educational Opportunity Center, 100 New St.,
Syracuse Celebrate Black History Month with special guest readers. The event will offer crafts, snacks and a free book. For children 12 and under, must be accompanied by an adult. Click here for more information.
Black History Month Cabaret with Gerald Veasley and Jazmin Ghent
February 23, 2020; Doors Open at 4pm
Marriott Syracuse Downtown $35 Advance, $40 at the door, $10 students
Gerald Veasley, a world-renowned bassist, joined by Jazmin Ghent, a saxophonist/vocalist/educator, will perform in this multi-generational Black History presentation. A free buffet is included in the ticket cost. Tickets available here.
Black History Month Cultural Expo
February 22, 2020; 11am – 4pm
Bethany Baptist Church, 149 Beattie St., Syracuse, NY
This expo will include vendors, storytelling, literature, historical artifacts, a living museum, salute to seasoned saints, activities for children, refreshments and more!
Food, Drink & More
From authentic soul food to classic Caribbean spiced chicken and Ethiopian doro wat, Syracuse has a vibrant culinary community. Check out just a few of our top spots.
5980 Butternut Dr., East Syracuse
What to Try: Seafood Gumbo
2859 S. Salina St., Syracuse
What to Try: Fried Chicken & Cajun Corn
656 N. Salina St., Syracuse
What to Try: Bariis Special
The celebration of Black history and community in business doesn't end with the Syracuse restaurant scene. The area has a large and proud community of black owned businesses, from bakeries to artists and clothing, be sure to support these local entrepreneurs the next time you're in the region.
This is not a comprehensive list. For more information on black-owned businesses in Syracuse check out Black Owned Syracuse, a local effort put together by Shavon Greene, Tonia Torrence and Chris LueChung.
Crafting beautifully crafted and creative desserts, that also taste delicious, this sweet studio is owned by Tykemia Carman. Her shop recently moved to online only but orders can be placed for anything from cake pops and macarons to custom cupcakes and her signature Crave Cups.
A Syracuse native, Jaleel specializes in illustration work, curating, directing, performing and doll making. His passion for creating is based in community building and showcases the "beauty and essence of black life and culture" while working to honor and acknowledge black history.
Director and owner, Dominique Dawkins, brings over 20 years of experience to the dance floor. She has received numerous choreography awards and has performed or choreographed for The Apollo, So You Think You Can Dance and more. Her studio is a pre-professional/professional dance company and competitive team that focuses on preparation for the professional world of dance and the arts. It also offers lessons and master classes including Beginner HipHop, Advanced Ballet Barre and Latin/Ballroom. They also allow drop-ins and have open classes year-round.
Offering free weights, cardio machines, personal training and classes like line dancing, Zumba and yoga this gym is locally owned and operated. With drop-in classes as low as $5 it's reasonably priced for all fitness levels.