Celebrate Black History Month in Syracuse
Friday, January 29, 2021 12:00 AM by Elizabeth Judge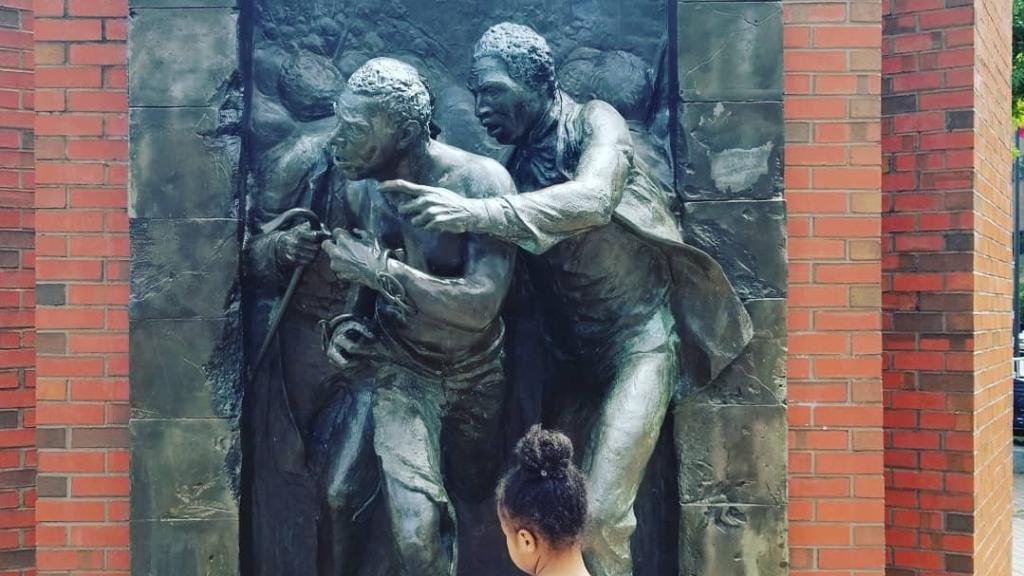 Syracuse is a city with a rich history of African American culture. From early abolitionists and the Underground Railroad to the 15th Ward and the city's resurgence of the Salina St. corridor. Syracuse is also home to dozens of black-owned businesses and events to celebrate all year. This month we celebrate all of this a little bit more, but Syracuse's Black History is on display year-round.
History & Culture
Walk through History
Take a self-guided tour along Syracuse's own Freedom Trail and experience the history-making sites of the Abolitionist Movement. The Trail commemorates places, people, and events of the 19th century. Along the way, visitors can view signs and markers that share information and historical lessons of this movement. The Trail winds throughout downtown Syracuse and includes highlights such as the Jerry Rescue Monument, Plymouth Church, Courier Building and the Mission restaurant, formerly the Wesleyan Church. Click here for a map of locations.
Faces of the Underground Railroad
Dedicated to the history of anti-slavery and Underground Railroad activity in Onondaga County, the Onondaga Historical Association's Freedom Bound exhibit personalizes the story of the Underground Railroad while educating visitors about slavery, abolitionism, tolerance, and the meaning of freedom through a highly immersive experience. See the gallery come alive with the lights, images, voices, sounds, and music of the period, helping to tell this important piece of our local history.
Discover Harriet
Established in 2017, the Harriet Tubman National Historical Park features the Harriet Tubman Residence as well as the Thompson Memorial African Methodist Episcopal Zion Church, a Visitor Center and the Tubman Home for the Aged. Discover Tubman's core values as you walk through the homestead with a guided tour of the property. Finish off this historical trip with a visit to the Fort Hill Cemetery, where Tubman is buried. Please note: All tours and operations are currently closed due to COVID but you can find out more about the park and life of Harriet Tubman here.
Virtual History
Now you can explore Our Stories: A Virtual Black History Museum, from anywhere. The Black History Preservation project honors and celebrates the history and heritage of black people in Syracuse and Central New York. The virtual community museum currently stores over 220 pieces of Black History, including audio interviews, newspaper clippings, photographs and more. The documentary, Syracuse's 15th Ward and Beyond can also be found on the Museum's site.
Events
Syracuse University
The University is hosting a variety of virtual events including a Racial Equity Symposium, Commemorative lectures, poetry suites and conversation panels. Some events will also be offered in person. All events require registration and some require a University ID. Find the full list of events here.
Virtual Artist Talk | Aaron Turner: Black Alchemy, Backwards\Forwards
February 18, 2021, 6:00pm – 7:30pm
Mary Lee Hodgens, of Light Work, will moderate a virtual conversation and Q&A with Aaron Turner, the creator of the photographic series and soon-to-be-published book "Black Alchemy". The series reflects the complex historical representation of Black identity and culture. Light Work will also be displaying 20 works of Turner's in their first main gallery show of 2021. While Light Work remains closed to the public due to COVID their galleries and exhibitions, including Turner's, can be viewed online.
Twilight: Los Angeles, 1992
Presented by Syracuse Stage, available for streaming February 3 – February 14, 2021
Twilight: Los Angeles, 1991 is Anna Deavere Smith's artistic response to the traumatic events surrounding the Rodney King beating. Using more than 350 interviews, Smith creates a mosaic of four dozen characters to ruthlessly probe issues of race and class that set Los Angeles ablaze. First performed in 1994, Twilight remains a stunning, insightful, and relevant work of documentary theatre. Information on how to purchase streaming of this performance can be found on Syracuse Stage's website.
Food, Drink & More
From authentic soul food to classic Caribbean spiced chicken and Ethiopian doro wat, Syracuse has a vibrant culinary community. Check out just a few of our top spots.
5980 Butternut Dr., East Syracuse
What to Try: Seafood Gumbo
2859 S. Salina St., Syracuse
What to Try: Fried Chicken & Cajun Corn
656 N. Salina St., Syracuse
What to Try: Bariis Special
484 S. Salina Street, Syracuse (located inside the Salt City Market)
What to Try: Stellar Plate (crispy flavorful chicken wings served with two signature sides) and Fried Green Tomatoes
484 S. Salina Street, Syracuse (located inside the Salt City Market)
What to Try: Mustard and Berbere Fried Chicken and Confetti Cornbread
The celebration of Black history and community in business doesn't end with the Syracuse restaurant scene. The area has a large and proud community of black owned businesses, from bakeries to artists and clothing, be sure to support these local entrepreneurs the next time you're in the region. For more information on black-owned businesses in Syracuse check out Black Owned Syracuse, a local effort put together by Shavon Greene, Tonia Torrence and Chris LueChung. Black Owned Syracuse maintains a full business directory of Black-owned, Syracuse-based businesses, brands and organizations. They also host events for Black entrepreneurs and community members and are working on creating projects and programs that center the local Black community.