Ultimate Syracuse Summer Festival Guide
Thursday, June 6, 2019 10:00 AM by Elizabeth Judge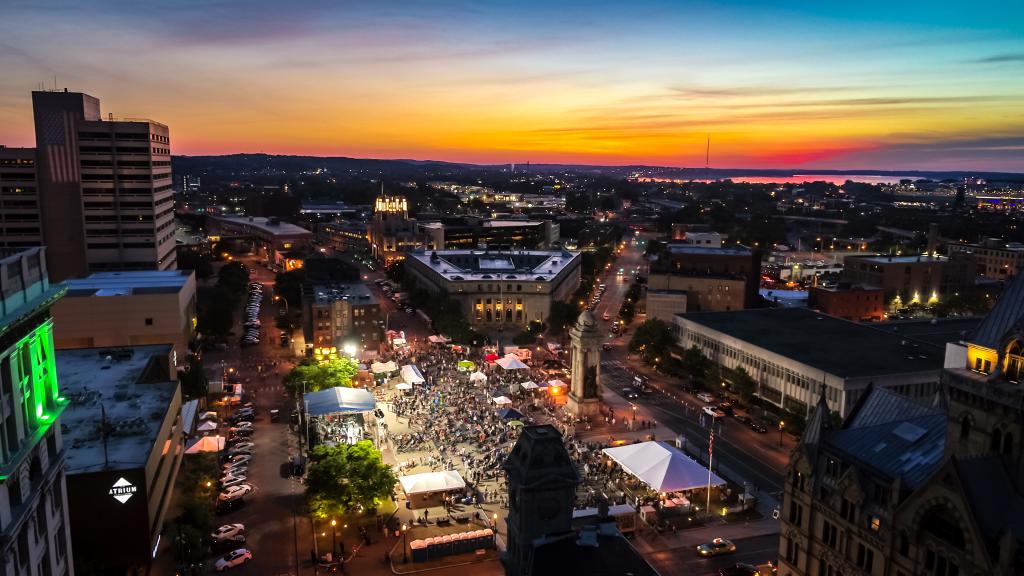 PLEASE NOTE: This original blog post was posted in 2019. Due to COVID-19 restrictions many of these events have been cancelled or are switching to a take-out or virtual options. Please check each individual event's own webpage for 2020 details.
Looking to browse arts and crafts through historic Downtown streets? Want to sample over 70 different specialties from local restaurants? Thinking about crossing a hot air balloon ride off your bucket list or seeing a famous blues headliner? Syracuse is an all-season destination with fun-filled festivals happening year round.
No matter which season you spend with us, we have a one-of-a-kind event to offer you. Eat your heart out with food festivals or catch live entertainment from dancing to live musical performances at one of our cultural or music festivals. Year-round we make it our goal to always find a reason to celebrate the season, join in on all the excitement that our festivals bring. Check out our summer Syracuse events that have everyone coming back for more.
June
June 7-8; Clinton Square, Downtown Syracuse 
The perfect blend of food and music! This two-day event allows attendees to sample the local cuisine from close to 100 local restaurants while listening to local and national acts perform on three stages.
St. Sophia's Greek Cultural Festival
June 6-9; St. Sophia's Church, Dewitt
This ethnic festival celebrates the local Syracuse Greek culture with traditional Greek food, dancing and music. Who can say no to gyro's and baklava?
June 14-15; Clinton Square, Downtown Syracuse
For two days, this African-American cultural festival commemorates June 19, 1865, the day that the last American slaves learned they were free. It's a family day filled with food, activities, and performances and is known to usually conclude with a concert featuring a national headliner.
June 22; Inner Harbor, Syracuse
Be who you are and love who you love! This annual LGBTQ pride festival attracts well over 4,500 people. It is a family-friendly event that welcomes all to feel comfortable to be themselves.
June 21-23; Clinton Square, Downtown Syracuse
The Polish Festival is a three-day event that celebrates the rich Polish heritage of Central New York. The festival showcases traditional food, dance and music. 
June 27; Onondaga Lake Park, Liverpool
Celebrate the last days of school and start of summer with a night of family fun for all ages. This free annual festival features a local talent showcase, a family fun zone, carnival games, food trucks and fireworks display.
June 28-30; Jamesville Beach Park
This festival is full of hot air, but in a good way. The annual balloon festival offers an amazing weekend filled with non-stop entertainment, arts and crafts, live music, amusement rides, and great food! 
June 27-29; Clinton Square, Downtown Syracuse
The New York State Blues Festival showcases a collection of regional and national artists from multiple genres, all with roots steeped in tradition and vision, and arranges them for a continuous river of music. 
July
Middle Eastern Cultural Festival
July 11-14; St. Elias Church, Syracuse
The Middle Eastern Cultural Festival showcases and celebrates the rich culture of Syracuse's Middle Eastern community. This open event allows all people to enjoy Middle Eastern cuisine, music and performances, and provides an opportunity to shop at a marketplace stocked with Arabic goods.
July 19-21; NYS Fairgrounds
Celebrating it's 20th Anniversary as the largest classic car show in the northeast! 8,000 classic cars descend upon the New York State Fairgrounds for a full weekend of the Syracuse Nationals car show. 
July 20; Downtown Syracuse
This first-year event features highlights a multi-cultural street festival with vendors and food stands. With over 40 plus different nationalities within the City of Syracuse the City is bursting at the seams with diversity, and representation spanning from across the globe.
Skaneateles Antique & Classic Boat Show
July 26-28; Village of Skaneateles
This event brings boats from across the country to the clear, glassy waters of Skaneateles Lake. The classic beauties are docked and stationed along the shore for spectators to admire. 
Syracuse Arts & Crafts Festival
July 26-28; Columbus Circle
As the premier of ArtsWeek, this spectacular three-day showcase of some of the country's most talented artists, craftspeople and entertainers features more than 160 artists from 25 states and Canada. More than 50,000 visitors shop and enjoy multicultural performances and summer refreshments. 
Northeast Jazz & Wine Festival
July 26-27; Clinton Square, Downtown Syracuse
The Northeast Jazz & Wine Festival combines fine wine and jazz music. Performances are provided by local and national artists and world-class wines can be sampled with the help of experts.
August
Skaneateles Chamber Music Festival
August 1-24; Skaneateles
This outstanding summer music festival is held at the beautiful Anyela's Vineyards' new outdoor amphitheater in the Finger Lakes region. It is known and recognized for its quality and world-renowned performers.
St. George Macedonian Ethnic Festival
August 2-3; St. George Macedonian Eastern Orthodox Church
This weekend event celebrates the Macedonian culture. Attendees can watch Macedonian ethnic folk dancing groups, tour the St. George Macedonian Orthodox Church, purchase traditional goods and sample traditional cuisine. 
Festival Latinoamericano Syracuse
August 3; Clinton Square, Downtown Syracuse
A celebration of Latino culture, enjoy local musical acts throughout the day as well as delicious food and the announcement of the "Aurelia Crespo and Carlos Lavezzary" Latino Scholarship. This year will also celebrate 20 years of the Latino Youth Theater and a live performance by salsa singer Charlie Cruz. 
CNY Scottish Games and Celtic Festival
August 10; Long Branch Park, Liverpool
The CNY Scottish Games and Celtic Festival celebrates the strong heritage and culture of the local clans! The day is filled with live music, traditional dance performances and a variety of competitions, including the ultimate test of athletic ability!
August 17; Clinton Square, Downtown Syracuse
This festival puts the sizzle in summer! Enjoy bacon treats from bacon mac n' cheese to bacon donuts. This event is literally all about bacon—oh, and there's live music and cold beer, too!
25th Annual Teddy Bear Artist Invitational
August 15-17; 441 Electronics Pkwy, Liverpool
Features over 40 leading teddy bear and soft sculpture artists from around the world for a weekend of fundraising for endangered species. These one-of-kind gallery pieces will adhere to this year's theme of "A Hallmark Moment."
August 21 - September 2, 2018; The NYS Fairgrounds, Syracuse
 15 acres, 70+ rides • Longest-running state fair in THE country!
The 174th Great New York State Fair is bigger and better than ever! It's jam-packed with entertainment, has a ridiculously large midway (with rides and games), fantastic fried food, 375 acres of animals, exhibits, competitions and dynamic displays! It's so hot, they had to add another day!