Ultimate Syracuse Summer Festival Guide
Sunday, July 25, 2021 10:00 AM by Elizabeth Judge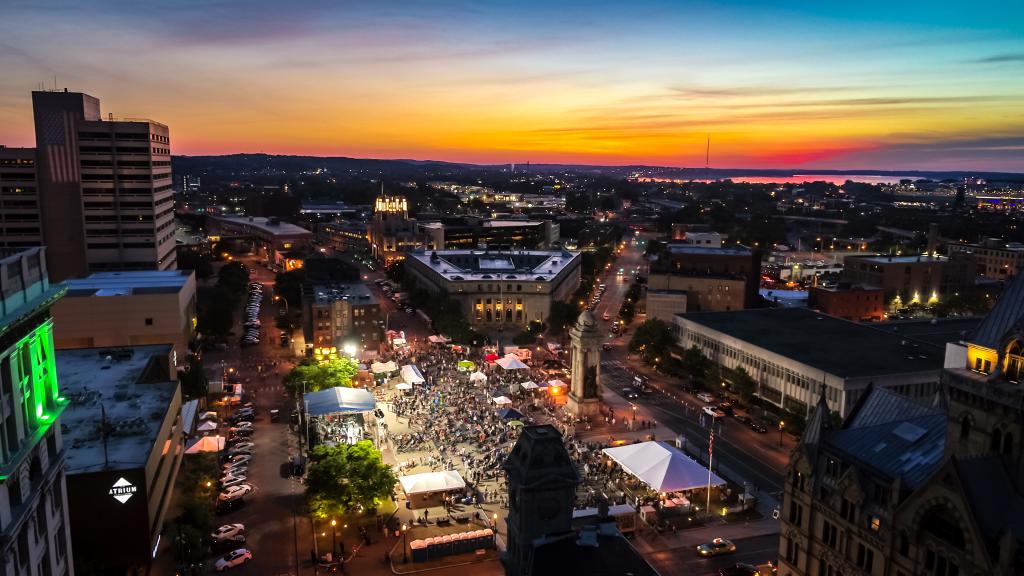 Looking to get back out and exploring Syracuse this year? We've got your updated list of end-of-summer festivals happening in 2021. No matter which season you spend with us, we have a one-of-a-kind event to offer you. Eat your heart out with food festivals or catch live entertainment from dancing to live musical performances at one of our cultural or music festivals. Year-round we make it our goal to always find a reason to celebrate the season, join in on all the excitement that our festivals bring. Check out our summer Syracuse events that have everyone coming back for more.
July
Skaneateles Antique & Classic Boat Show
July 23-25; Village of Skaneateles
This event brings boats from across the country to the clear, glassy waters of Skaneateles Lake. The classic beauties are docked and stationed along the shore for spectators to admire. 
Syracuse Arts & Crafts Festival
July 26-28; Columbus Circle
This spectacular three-day showcase features some of the country's most talented artists, craftspeople and entertainers. Typically, more than 50,000 visitors shop and enjoy multicultural performances and summer refreshments. 
July 7 - September 29; Every Wednesday; Clinton Square, Downtown Syracuse
This new weekly concert series brings area artists, food and drinks together for the downtown Syracuse crowd every Wednesday evening for 13 weeks. 
July 24- September 11; throughout Downtown Syracuse
Consisting of pop-up music experiences as well as roving street entertainment for outdoor diners, this seven week long festival looks to make the downtown Syracuse area alive with music and entertainment. The strolling musicians will focus on two routes that pass by popular outdoor dining spots during peak weekend hours. A series of lunch hour concerts will take place in Perseverance Park during the week and Marriott Syracuse Downtown will offer jazz performances every Wednesday and Saturday evening. 
August
Middle Ages 26th Anniversary Celebration
August 1; Leavenworth Park
This annual family-friendly event features popular area bands, food vendors and of course Middle Ages craft brews. Feel free to bring chairs, pop-up tents and food. This year's musical lineup includes Vaporeyes, Dirty Blanket, Maybird and Dark Hollow.
Skaneateles Chamber Music Festival
August 1-28; Skaneateles
This outstanding summer music festival is held in Skaneateles on the grounds of the beautiful Anyela's Vineyards at the Robinson Pavilion as well as Live virtual sessions every Tuesday. With an abbreviated season this year, the festival will only host two weekends of in-person musical performances, August 12 - 14 and August 26 - 28.
St. George Macedonian Ethnic Festival
August 6-8; St. George Macedonian Eastern Orthodox Church
This weekend event celebrates the Macedonian culture. Attendees can enjoy Macedonian music, tour the St. George Macedonian Orthodox Church, purchase traditional goods and have a taste of traditional food and drink. 
August 6; Rosamond Gifford Zoo 
Experience the 25th Anniversary event of Brew at the Zoo! Sample dozens of craft beers, specialty wines and other adult beverages while enjoying animals on exhibit. This year features include live music, food vendors and a silent auction.
August 7; Critz Farms, Cazenovia
This all day family-friendly festival offers something for everyone. Enjoy food trucks, live music, children's entertainment, farm tours, u-pick blueberries and blueberry inspired cider and beer. 
August 7; Ryder Park, East Syracuse
This annual free family-friendly event is full of fun for the whole family. Featuring games, inflatables, pony rides and more this one day event wraps up with a musical performance from the Maria DeSantis Orchestra and fireworks!
August 13 - 14; Clinton Square, Downtown Syracuse
This festival puts the sizzle in summer! Enjoy bacon treats from bacon mac n' cheese to bacon donuts. This event is literally all about bacon—oh, and there's live music and cold beer, too!
August 20 - September 6, 2018; The NYS Fairgrounds, Syracuse
 15 acres, 70+ rides • Longest-running state fair in the country!
The Great New York State Fair is returning for 2021 and will be bigger and better than ever! Now extended for an 18-day run it's jam-packed with daily entertainment, has a ridiculously large midway (with rides and games), fantastic fried food, 375 acres of animals, exhibits, competitions and dynamic displays! This year's ticket prices are even lower than ever!